By: Lucas Pearson | Follow Me On Twitter @LucasPearson_
Can we all relax a little bit? After the first three games of the season, just about every Bruin's fan under the sun said that the Bs had no chance at the Cup or that the Bruins weren't going to make the playoffs. Whether they were calling out Sweeney, Cassidy, Rask, or just about anyone else on the team, I think this last game against the Philadelphia Flyers hammered down the fact that us Bruins fans need to take a chill pill. Here's why. 
The Improved Forward Core
I'm not sure anyone realizes how much better this year's forward core is compared to the one the B's put out for most of last year. We saw guys in the middle-six like Brett Ritchie, Karson Kuhlman, Sean Kuraly, and Chris Wagner who are far better suited for fourth-line roles. The Bruins will have full seasons of Nick Ritchie (who has looked pretty damn good), Craig Smith, and Ondrej Kase (when healthy) to occupy their middle-six. That is leaps and bounds better than anything that was utilized for much of last season. 
If you throw in the young, always improving Jack Studnicka, Anders Bjork, and already impressive Trent Frederic, you have to be WAY more confident in this group than the one the Bruins played just about 60 games with last year. With Pastrnak out, new members entering the lineup, and no pre-season, a slow start should've been expected. The five on five numbers have been rough, but again, it's been four games. This forward group is very, very good; they will score. 
The Best Goaltending in the Division
In this condensed NHL season, we are going to see a ton of back-to-back games. That means goaltending, and more specifically goaltending tandems, will be more important than ever. In this new division filled with elite teams, there is not a more elite tandem than what the Bruins have in the net. This is the B's competition in goal.
Buffalo Sabres: Linus Ullmark, Carter Hutton
New Jersey Devils: Mackenzie Blackwood, Scott Wedgewood (or recently claimed Eric Comrie)
New York Islanders: Semyon Varlamov, Ilya Sorokin
New York Rangers: Igor Shesterkin, Alexandar Georgiev
Philadelphia Flyers: Carter Hart, Brian Elliot
Pittsburgh Penguins: Tristan Jarry, Casey Desmith
Washington Capitals: Ilya Samsanov, Vitek Vanecek (likely the recently signed Craig Anderson)
You cannot tell me you would rather any other tandem you've seen above; there is just so much youth and uncertainty between the pipes around the division. The only starter aside from Rask that has at least 75 career games played is the Islander's, Semyon Varlamov. I would most certainly trust the tandem with a combined seven top-ten Vezina finishes and 68 career playoff wins more than a few skilled goalies that have only dipped their toes in the league. This is the same tandem that let up the least amount of goals in the NHL last year. The Bruins will be quite alright in the net. 
The New Defense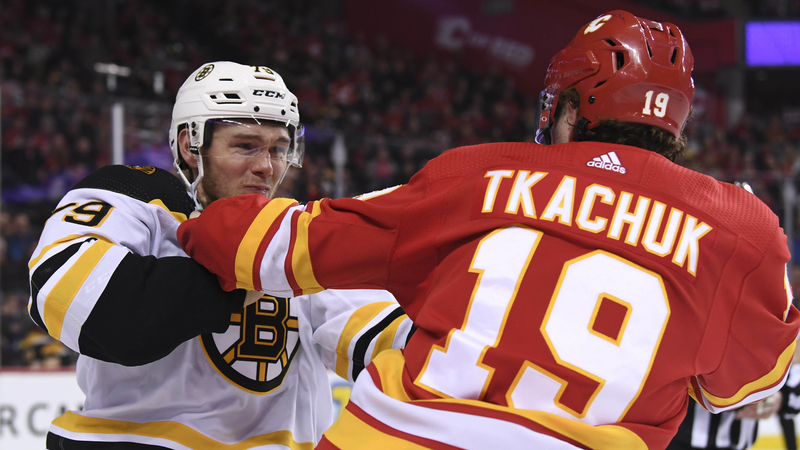 The defense is this team's biggest question mark; there is no doubt about it. With the departure of Zdeno Chara and Torey Krug, there are going to be some big shoes to be filled. But with all of the flack the Bruins' drafting system gets, they really know how to groom and develop young defensemen. 
Aside from Chara and John Moore, every single defenseman that suited up for the Bruins last year was either drafted or, for the case of Torey Krug, signed as a college FA. Here are the debut ages of a few of Boston's defensemen last year: Torey Krug-20, Charlie McAvoy-19, Brandon Carlo-20, Matt Grzelyck-23, and Connor Clifton-23. All of these guys have made an immediate positive impact at a young age with the club and have developed into vital pieces for this Bruins team. So what's not to say the young trio of Jakub Zboril, Jeremy Lauzon, and Urho Vaakanainen can't make a similar impact? All three were touted prospects coming out of the draft and have looked solid in their respective cups of tea in the NHL. It's worked so well for the Bruins before; why is everybody worried it can't happen again?
If you told me the Bruins would be 2-1-1 to start the year despite averaging under two goals a game, I would be pretty happy. Obviously, this is not the same Bruins team as last year. Torey Krug and Zdeno Chara will be big losses both on the backend and the locker room; nobody is going to question that. But from top to bottom, this is still one of the best rosters in the league. There may be early growing pains with no Pastrnak and the young defensive core, but this is still a team a half a year removed from being Stanley Cup favorites. A really good team, maybe even two, will miss the playoffs from the stacked East division, but that won't be the Bruins.