By: Lucas Pearson | Follow Me On Twitter @LucasPearson_
We are just five games removed from the Trade Deadline, and man, I think Bruins fans have to be ecstatic about what this team looks like now. Just hours after losing a pitiful 8-1 game to the Capitals, Don Sweeney worked his magic and made two trades. He acquired Mike Reilly from the Senators for a 2022 3rd round pick, and just a while later, he sent a package of Anders Bjork and a 2021 2nd round pick for Taylor Hall and Curtis Lazar. The early results have been fantastic, so why not take a super premature look and grade the acquired players. 
Mike Reilly – A
With Brandon Carlo and Matt Grzelcyk still on the shelf, the addition of Reilly transformed the Bruin's defensive core the second he stepped on the ice. In his short stint, the left shot has averaged a shade under 23 minutes of ice time, has picked up three assists, and has compiled a +3 rating. The advanced analytics support his play as well; he sits second in all Bruins with a 61.4 CF% and is 7th among Bruins in relative even-strength Corsi. 
Stats aside, the defenseman has certainly passed the eye test. He is excellent in the offensive zone; he has excellent body control in terms of pivoting and can walk the blueline like some of the NHL's best. Something that may fly under the radar is his knack of getting shots through from the point; he's actually one of the best in the league in this regard (check the tweets below). His explosive edges and strong, active stick make him an asset in all three zones. If he keeps up his play with a healthy defensive core, Reilly may go down as the most under-the-radar acquisition of the entire deadline. 
Curtis Lazar – B
Despite what a few may think, Curtis Lazar was far from a throw-in in the Taylor Hall trade. The 26-year-old has not lived up to his draft pedigree (picked 17th overall in 2013), but he has carved out a substantial bottom-six role over the past few years. Lazar has added a much-needed bump to Boston's depth, and has Sean Kuraly and Chris Wagner ever needed that more? After months of below-average play, the Bruin's fourth line looks like it can provide the boost it's always given in the past. Lazar isn't going to be a massive game-breaker, but he has provided speed, physicality and maybe, more importantly, puts pressure on the rest of the forward depth. Nobody wants to go to the rafters when Trent Frederic tries to re-enter the lineup.
Taylor Hall – A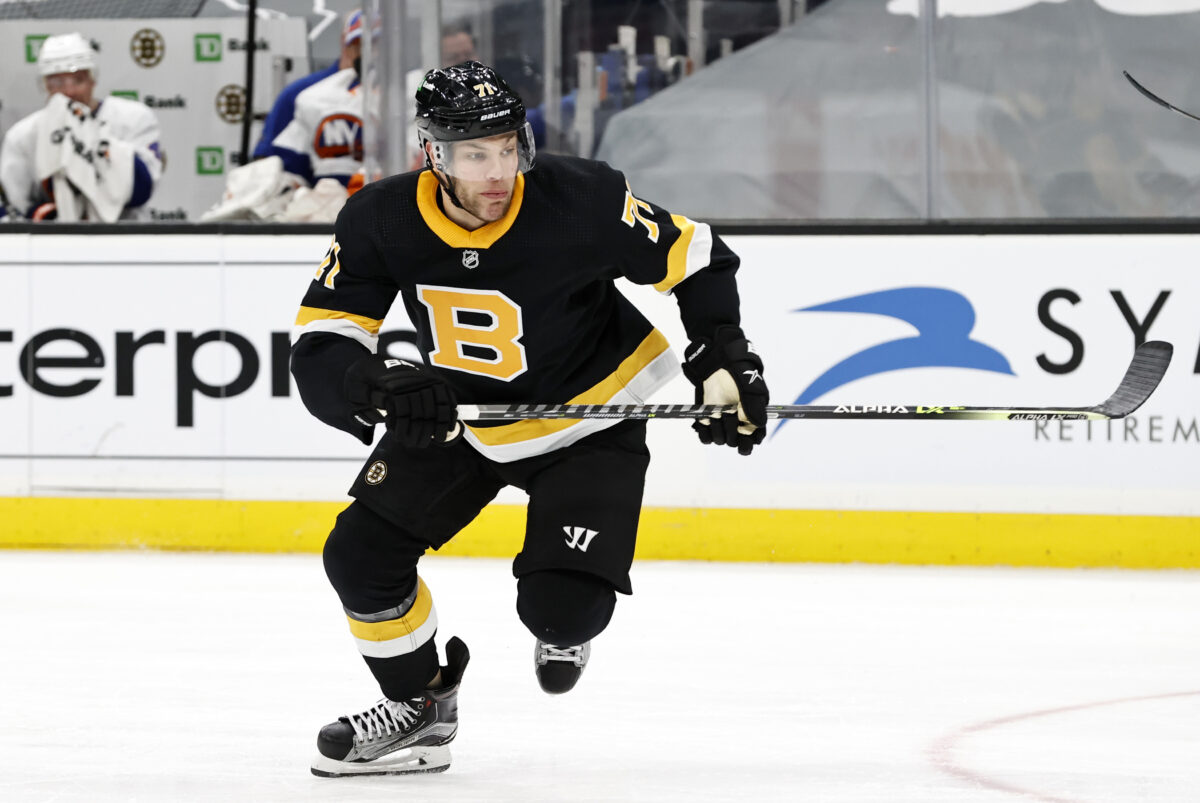 There were talks at the 2010 NHL Draft, there were talks over numerous offseasons, and there were talks at this year's deadline. After years and years of rumors, Taylor Hall is finally a Boston Bruin, and he looks great.  For seemingly the first time in his career, Taylor Hall is not THE guy. He's not the number two guy. He's not even the number three guy, and that weight is off his shoulders looks to be paying dividends. In a few of the Sabres games I've tuned in to this season, Hall looked disengaged and didn't seem to be playing with a whole lot of passion. Putting on the Spoked-B seems to have changed that.
In his first five games with the Bruins, Hall is getting just about 15 minutes of ice-time, four minutes less than his career average. That drop in ice time has not affected his scoring or pace of play. The winger has notched two goals and an assist to partner up with a +4 rating and, most of all, has given the Bruins a real threat on their second line for the first time in years. That unit hasn't looked better in a long, long time. David Krejci seems to be loving Hall's presence to his left as his stat line (3-2-5, +4) indicates just that. Hall, Krejci, and Craig Smith have been a force in the opposition's own end; they force turnovers, they eat up chunks of zone time, and they get chance after chance whenever they're on the ice. This top-six is going to be a force for the rest of the season and into the playoffs. 
I feel like it's worth noting that Anders Bjork has looked excellent since getting to the Sabres. He's getting deserved ice time; he was not getting in Boston while netting a goal and two assists in five games. But overall, this is an A from Don Sweeney and company. They got everything they needed without giving up a 1st rounder or a real prospect. This Bruins team is getting healthy and hitting its stride at the perfect time, Stanley Cup inbound.