By: Liz Rizzo | Follow me on Twitter @pastagrl88
"Should go down as one of the greatest Bruins centers of all time. Everyone's who gotten to play with him tell you he's one of the best players they've played with and I owe a lot of my success to him."

Former Bruins Milan Lucic on David Krejci
For the past 15 seasons, the Boston Bruins have had a constant presence on the second line. Not one to make a scene or steal the spotlight, David Krejci has quietly become one of the most reliable players for the Bruins. The team and educated fans know just how invaluable it really was having a player like Krejci on that line. Throughout his career in Boston, the Czech Republic native played alongside plenty of good and not-so-good wingers. Despite who his linemates were that particular season, Krejci did what he did best: play hockey.
"…I've gotten kind of used to seeing my favorite guys going away-Milan, Nathan (Horton), Iggy (Jerome Iginla). I'm going to have to just play my game and try to find chemistry with whoever's going to be on my line."

Bruins forward David Krejci reacting to Bruins not re-signing Loui Eriksson in 2016
IN THE BEGINNING
Coming from a family where his father played and coached hockey, there is no question as to where his influence to play the sport came from. And for many prospects, especially foreigners, playing in the NHL can be an unreachable goal. Working hard and being disciplined ultimately led to Krejci making the move to North America. As a young teen, he played for the HC Trinic team and made an impression on Bruins scout Ulf Andersson. Krejci would be selected by Boston in the 2004 NHL Entry Draft. The future centerman would leave his hometown of Sternbeck to play with the Gatineau Olympiques in the QMJHL (Quebec Major Junior Hockey League).
"Krejci is a very smart center with a great two-way game. He's a terrific passer and playmaker with excellent vision. He can also play a decent phyisical game."

-Bruins European scout Ulf Andersson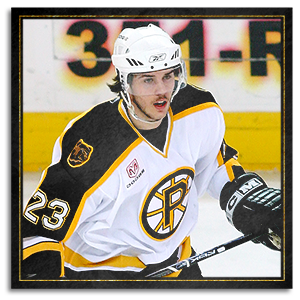 With no family around and learning a new language, it can be daunting but to succeed persistence is key. Krejci's ability to make plays and putting up 81 points with the Olympiques earned him a ticket to Providence. He debuted with the Bruins during the 2006-'07 season where unfortunately he would suffer a serious concussion. Injuries have plagued Krejci throughout his entire career but he still consistently finished high amongst the team's top scorers.
If you're into stats it's hard to dispute these numbers: 73 points and a +37 rating in 2008-'09 which led the league. He would win the Seventh Player Award that year. In 2013-'14 he again led the league with a +39 rating. Known for his creative puck handling and being one of the best passers in the NHL, Krejci had at least 40 assists during many seasons with Boston. During the 2011 Playoff run, he led the postseason with 23 points. In 2013, he once again led with 26 points.
PLAY WITH WHAT YOU HAVE
He seemingly went along with all the roster changes that surrounded him, never showing too much emotion on the ice. Yet come the Playoffs you have the aptly named "Playoff Krech." When it mattered most, his game was raised. He finished the five-game first-round series against the Carolina Hurricanes in 2020 with eight points. Another example of Krejci being Krejci: when David Pastrnak missed time playing due to injury, the 35-year-old forward saw himself being moved up to the top power-play unit. This move paid off as two power-play goals were scored in Game Five.
"I've seen it in the playoffs now every year I've been here… I know that we've used him last minute a lot since I've been here with Bergy and Marchy, on the right wing, and again he always rises up in those occasions.

He's a real competitor, good team guy, well liked in the room, quiet, I think a good hockey mind. You can always talk to him about the game and get good responses and good dialogue, and a guy that loves the game. He just doesn't show it maybe like some other people would because he is kind of a more composed guy that way, but certainly one of the fierce competitors in terms of inner drive that I've seen around here."

Head Bruins Coach Bruce Cassidy
HOME IS WHERE IT HEART IS
Back in 2014, Krejci knew he wanted to end his career back home. At the time the ever-revolving door of wingers to skate alongside the center saw Eriksson taking the left side that year. There was that hope of getting another shot of winning the cup and the Czech native had more to accomplish:
"In seven years, if we achieve what we want to, it will make it an easier decision to go back home. I always wanted to finish my career back in my hometown. That would be a way easier decision. But if not, I'd have to think twice about my next move…I believe we can win not once but more times. So, it's just up to us here and you know, we'll see what happens. So seven years is a long way from now and I don't want to think too much ahead."
While it's a hard pill to swallow for fans to ever imagine a Bruins team without Krejci, the reality is that a huge gap needs to be filled. As the decision to move back home was announced, it wasn't hard to understand the reasons behind it. He wanted his children to experience growing up in his native Czech Republic, to know the language, and most importantly, to know his parents. Speaking about his family offered a rare glimpse into what type of person Krejci is: family rooted. Things change in seven years and the reasons to go home have understandably changed.
The amount of respect the team has for one of their best playmakers, one who has been pivotal during the Bruins playoff appearances, is evident by the outpouring of support on social media from former and current players.
"This guy is all-time. An amazing teammate and an even better friend! Congrats on an amazing career as a Bruin! Good luck over there and enjoy your time with your family."

Former Bruins defenseman Torey Krug
"David is not only an amazing teammate but he is a great friend. As much as we will miss him I couldn't be happier for him and his family to return home to Czech. Krech is a true Bruin, he embodied everything it meant to put on the Spoked-B. I learned a lot from him and I will cherish all the amazing memories of our time together."

Bruins Captain Patrice Bergeron
Here's to family and hockey.
Thank you, David