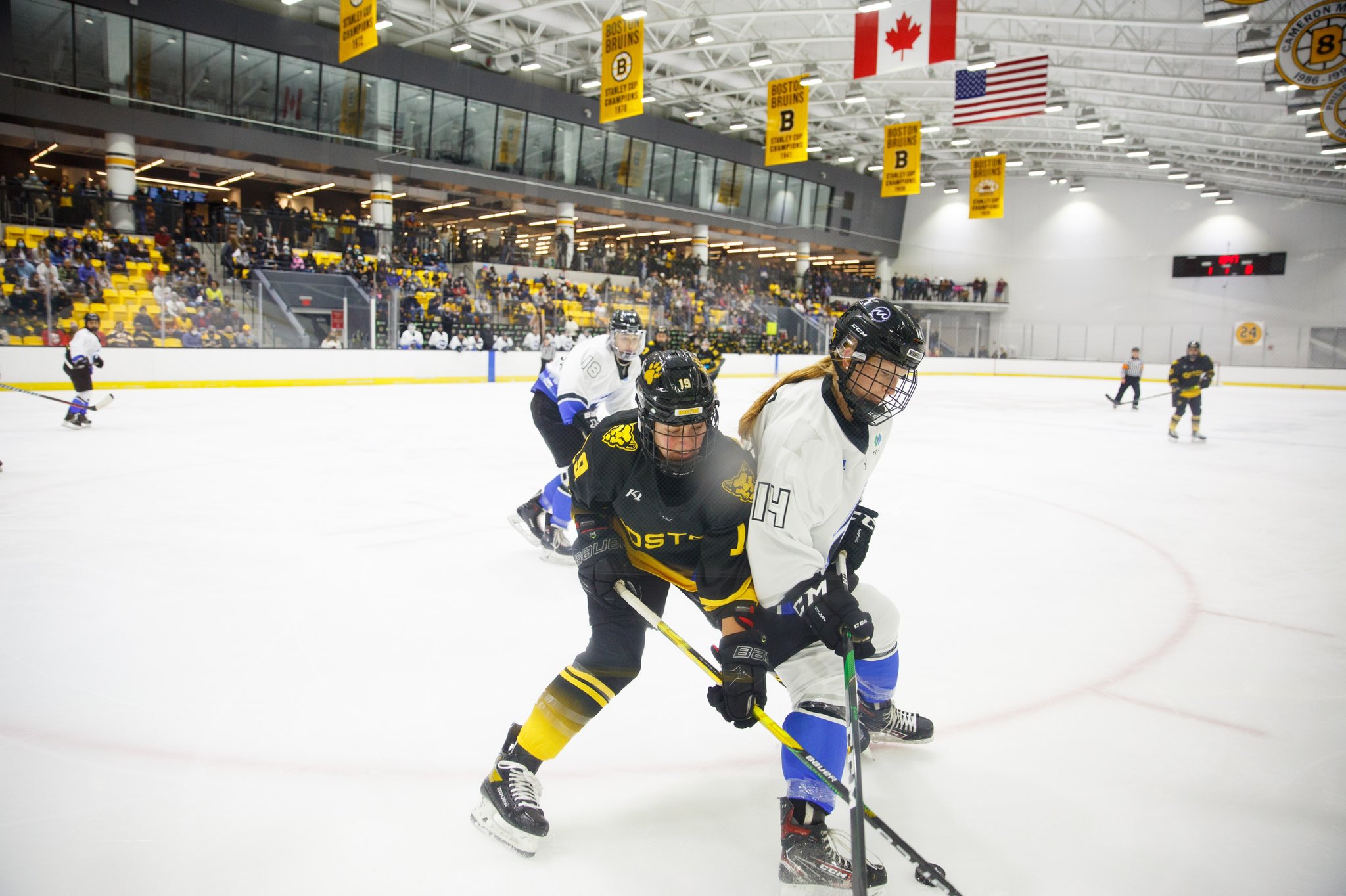 By: Jake Solomons | Follow me on Twitter: @jake_solomons
The Premier Hockey Federation season is in full swing as we closed on an action-packed opening weekend. The Connecticut Whale split 1-1 with the Metropolitan Riveters. The Toronto Six defeated the Buffalo Beauts. But standing tall at an undefeated 2-0, the Boston Pride swept the Minnesota Whitecaps Saturday and Sunday in an Isobel Cup Championship rematch.
Revenge is best served cold, but Minnesota was lukewarm at best, considering they were trailing for the duration of both games. However, with both games tallying a total of 11 goals, there is something to be said for the scoring chances both Boston and Minnesota can create to assert their dominance early. The Whitecaps and Pride will have an opportunity to rekindle their rivalry on November 20-21 in Minnesota, but first, let's take a look back at this weekend's action.
Game 1
The Pride kicked off the season in dominant fashion beating the Minnesota Whitecaps 6-4 on Saturday, November 6. Boston built a lot of momentum with their exhibition win vs. Toronto Six last week, and the Pride offense proved it. The red line offense of Taylor Wenczkowski-Christina Putigna-Kayla Friesen showed up to set the tone of the season with Wenczkowski striking first at 5:01 giving Boston their first goal and lead of the 2021-21 season. The Boston powerplay came from a tripping call on Whitecaps defender Winny Brodt-Brown at 3:58. A feed from the corner by Amanda Boulier to Friesen at the right circle, cross-ice to the left circle, and a one-timer by Wenczkowski dented the twine. Just like they drew it up in practice.
It was only a matter of time before this line got hot, and rightfully so, it took 4 minutes and 59 seconds. I called it last week when they played Toronto. "We could estimate that although it was actual PHF-level competition, the Red Line will show up in full force vs. Minnesota." That wasn't a prediction; it was a spoiler. The red line was biding their time for the opportunity to strike. Game one in front of a sold-out Warrior Arena is as good a place as any to stake their claim.
O Captain, My Captain!
Boston Pride Captain Jillian Dempsey has been the heart and soul of the team for seven seasons since being drafted in the inaugural PHF season in 2015-16. She has been slowly cementing her legacy for those seven seasons with each goal she's scored in the league. Saturday's game was arguably one of the most important games for Dempsey as she recorded her 50th career goal in the PHF, formerly NWHL.
The goal came from a quick feed by Sammy Davis on the far redline to Dempsey on the rebound to tuck it in past goaltender Amanda Leveille for the milestone goal. A true captain leads by example. Dempsey's accolades speak volumes to her competitiveness and drive to be a great player and an even better teammate. Seven years in the league and no foreseeable end to her career is hopeful for the Boston Pride organization on and off the ice. Photographer Michelle Jay captured the record-breaking goal (below) and the reaction of Jillian Dempsey as she scored. Priceless.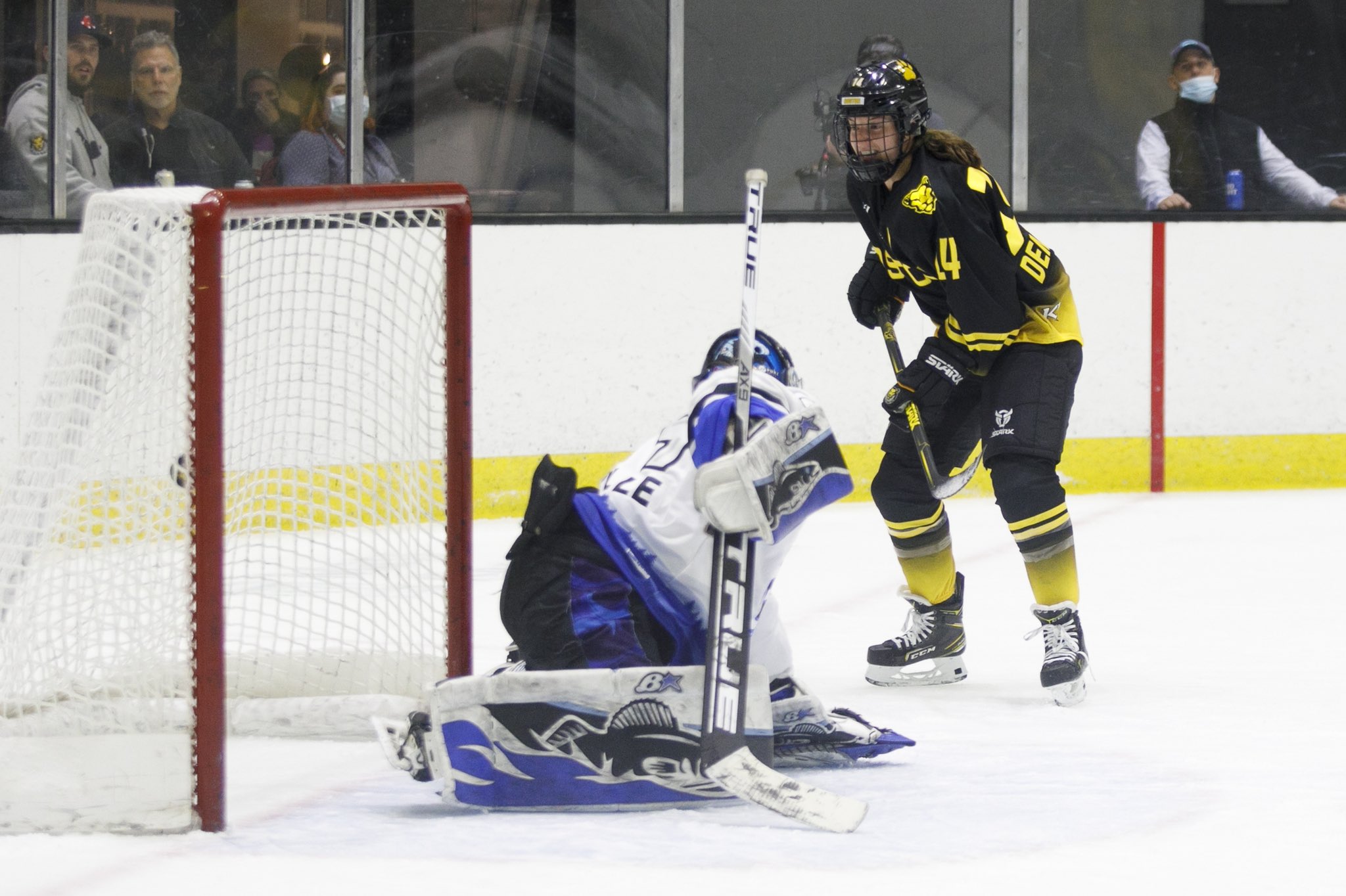 With her start in Sunday's game, Jillian Dempsey became the first PHF/NWHL player in league history to skate in 100-career games. Dempsey is a two-time Isobel Cup champion and holds a PHF record of 107 points. The Boston Pride could not have found a better fit for a captain to lead this team to another Isobel Cup title.
End of the first period: Boston – 2, Minnesota – 0.
Period 2
The second period saw Boston continue their offensive attack in a timely fashion. McKenna Brand kept her points streak alive with a quick, even strength backhander past Leveille at 3:26, assisted by Jillian Dempsey and Sammy Davis. Brand lifted Boston to a 3-0 lead over Minnesota which created some tension as physicality picked up shortly after. Meghara McManus caught a charge for holding, which sent her to the box for a couple of minutes. The Whitecaps couldn't capitalize on the powerplay, keeping the score 3-0. McManus is usually a PK standout preventing scoring opportunities, so it's ironic seeing her allow the other team a scoring chance.
A slashing minor at 12:55 on Minnesota's Nicole Schammel put Boston on the powerplay. Unable to connect on a goal, the Pride looked to create opportunities elsewhere. The two-minute timeout gave McManus time to refocus and give Boston the jolt missing on the powerplay earlier. In the defensive end, a blocked shot by Katelyn Russ presented a 2-on-1 breakaway opportunity with McManus in tow. A backhand saucer from the far left-wing to McManus for the backhand tip-in to beat Leveille stick-side for the goal at to put Boston up 4-0.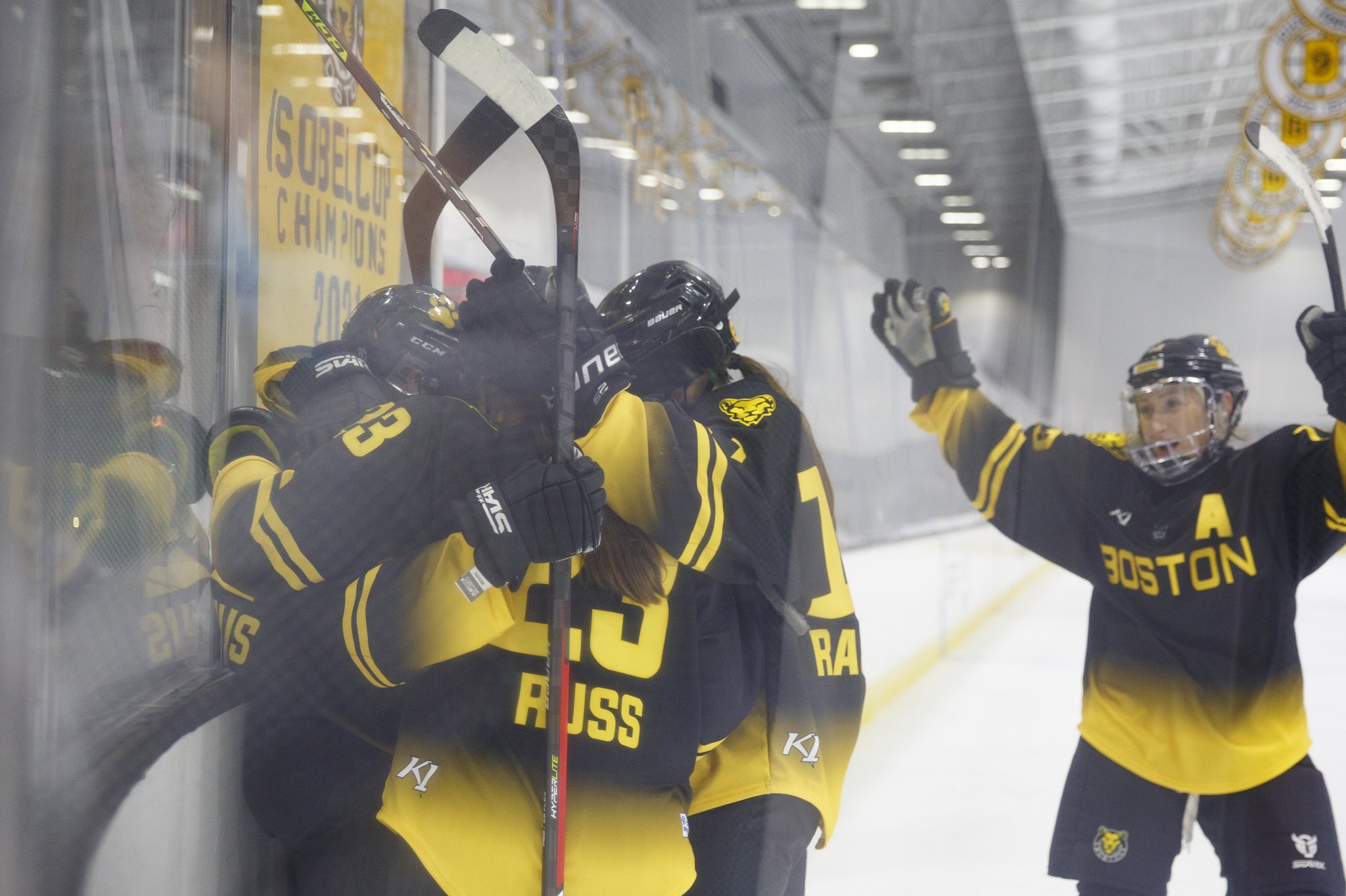 The redemption goal by McManus helped close out the second period as Minnesota headed to the locker room to regroup for the final frame of play.
End of the second period: Boston – 4, Minnesota – 0.
Period 3
In between periods, the second intermission allowed Minnesota to press PAUSE and re-strategize as their absence on the scoreboard became a cause for concern to their winning chances. Boston tried their best to hold the shutout into the third, but the Whitecaps came out firing with a quick end-to-end breakout goal from Taylor Turnquist, making it 4-1.
Turnquist, a familiar face in Boston, made her return to Warrior, having played with the Pride in her first season last year in 2020-21. The Minnesota momentum was short-lived as Pride forward Kayla Friesen answered quickly with a wicked wrister to add to the lead 5-1. Boston signed Friesen in the offseason after playing her rookie season with the Connecticut Whale, having been drafted #2 overall in the 2020 NWHL Draft.
A powerplay opportunity at 7:45 for Boston was unsuccessful after Ashleigh Brykaliuk was sent to the box for tripping. Friesen's first goal with the Pride was matched by teammate Evelina Raselli's first goal with Boston at 11:29 to extend the lead an impressive 6-1. So much for Minnesota's momentum. But wait just one second.
Minnesota made a final push in the last period with former Boston Pride member Lexie Laing firing an off-balance wrist shot assisted by Allie Thunstrom at 12:03 to close the deficit 6-2. Laing's goal sent the Whitecaps into overdrive, and Thunstrom felt it necessary to add to her collection of points for the night. An even-strength goal by Thunstrom at 15:52 cut Boston's lead in half 6-3, with plenty of time to spare.
A hooking penalty on Chelsea Rosenthal created a setback for Minnesota's scoring chances. Allie Thunstrom made the best of their opportunities applying pressure in the attacking zone connecting with the back of the net once again at 18:13 on the shorthand to make it 6-4. The end of regulation would award Boston their first victory of the season.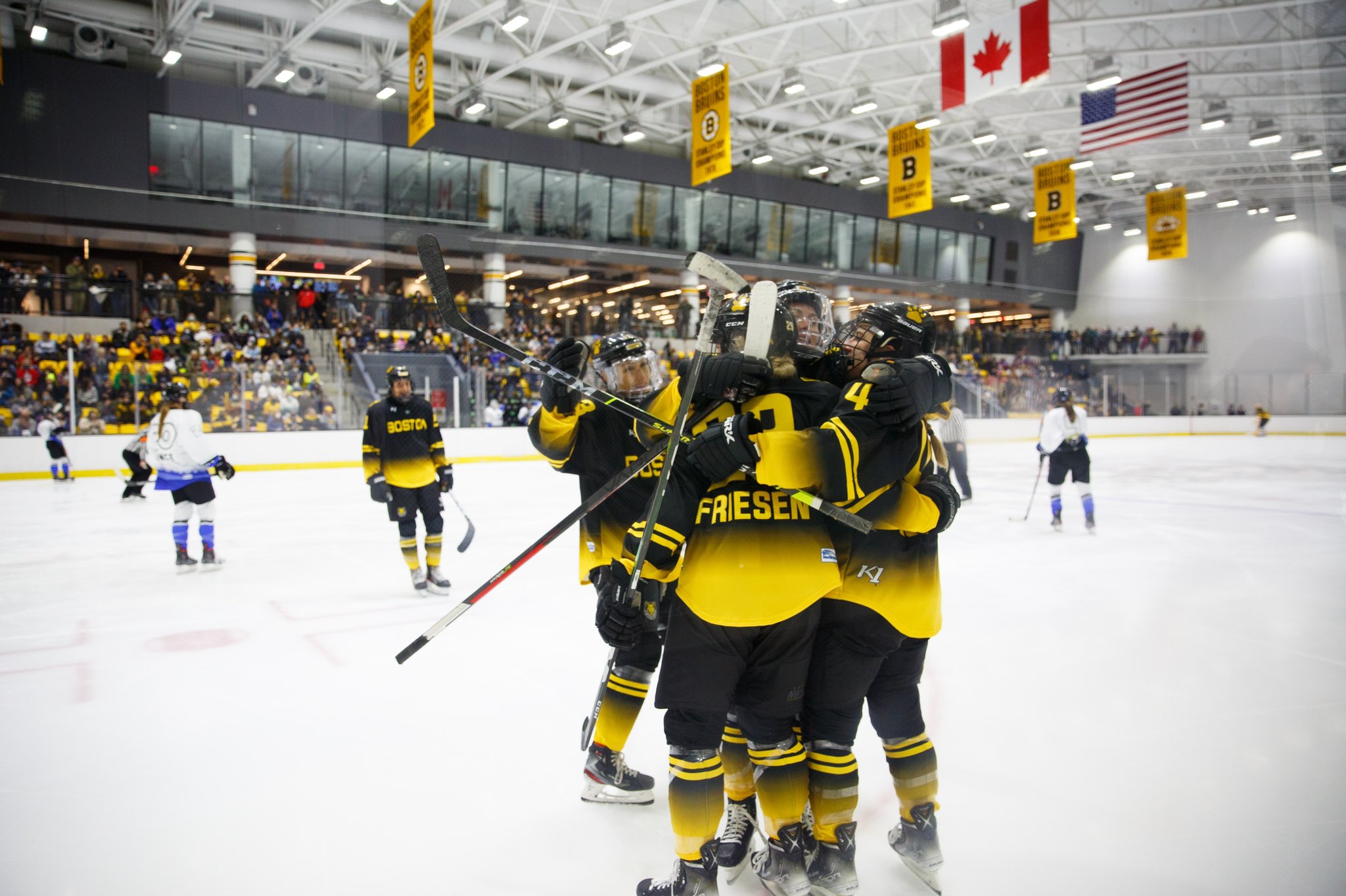 Final Score: Boston – 6, Minnesota – 4.
Game 2
Sunday was a defensive battle from puck drop to the final whistle. Boston Pride Head Coach Paul Mara made a few changes, specifically with goaltender Katie Burt's first start this season. Lovisa Selander got the start in the net in Game One. The most action seen during the game was in the penalty boxes, both teams recording four penalties on the day. Kaleigh Fratkin led things off for Boston in the first with an interference call 11 seconds into the game. Not a hot start, but the Whitecaps didn't score on the powerplay.
Lexie Laing and Taylor Turnquist traded in their two goals from Saturday for two minor penalties on Sunday in the first period, which presented multiple scoring chances for Boston early on. Unfortunately, the puck never crossed the goal line on either powerplay. Kaleigh Fratkin went to the box again for slashing around 9:28, and Minnesota couldn't capitalize on the powerplay.
After a scoreless first period, two points were made clear: 1. Both teams may have used up their offensive magic in Game One and 2. A defensive stalemate would make for a very long game. The latter was more accurate. Heading into the second, it was apparent some adjustments had to be made for both teams to create opportunities in the attacking zone.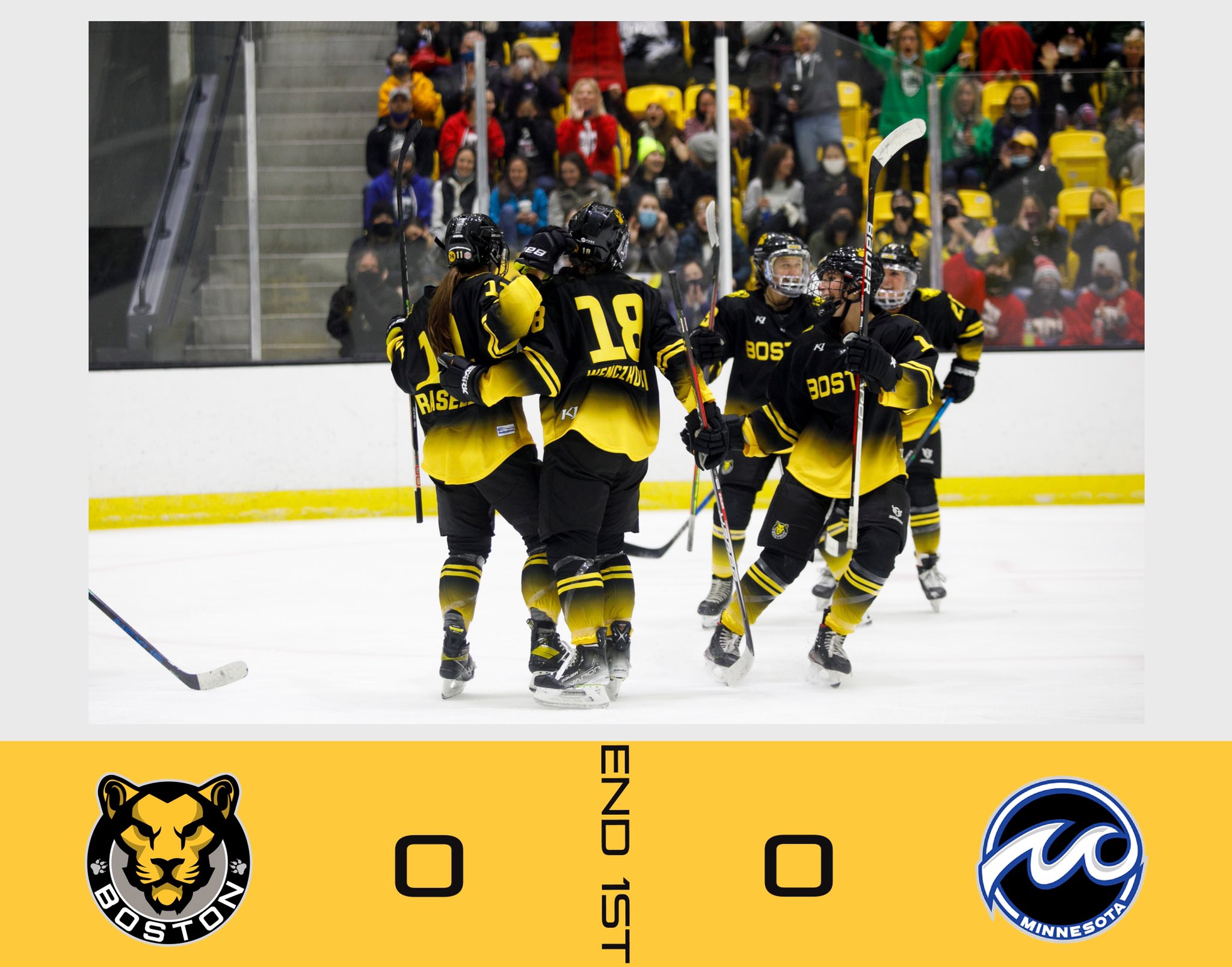 End of the first period: Boston – 0, Minnesota – 0.
Second Period
A slow first period let the momentum hang in the balance for either team to take control in the second period. The Pride mishandled the opportunity, and instead, Boston rented out the sin bin again with Christina Putigna called for high-sticking at 2:33. Boston Pride forward McKenna Brand said enough is enough and fired a shorthanded wrister past Amanda Leveille at 4:13 to take the lead 1-0. A textbook 2-on-1 breakaway with Jillian Dempsey carrying the puck end-to-end and sliding it glove-side to Brand to put it away was executed perfectly.
Minnesota standout Allie Thunstrom recorded her first penalty of the season at 14:29 for hooking. Boston's powerplay was unsuccessful yet again, but on the bright side, the Whitecaps were held scoreless by the end of the period. Heading into the third and final frame, Boston looked to expand on their small but definitive lead.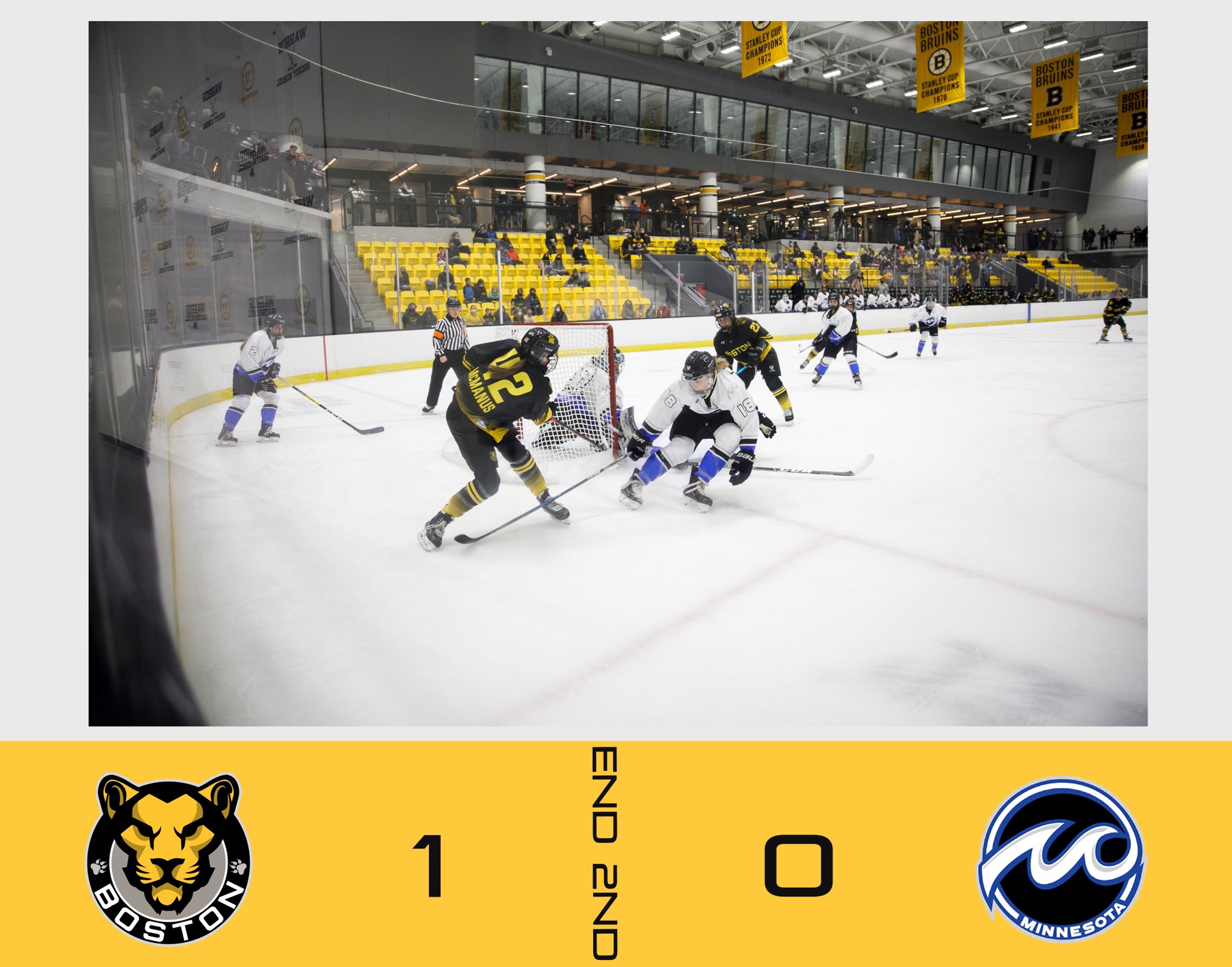 Third Period
A battle of the netminders was the theme in Sunday's game, even though Minnesota let up one goal. Amanda Leveille was playing on her head in Game Two, even with the one goal allowed. The first half of the third period was back and forth, quite literally, turnovers in the neutral zone, creating short-lived offensive rushes that resulted in repeated goaltender saves.
The most excitement we got was a bit of pushing and shoving on the ice after a couple of plays along the boards got a little spicy. Jonna Curtis got called for a hooking minor at 13:49 to put Boston on the powerplay. As the pattern stays true to form, Boston could not capitalize on the fourth powerplay of the day. Shorthanded? They score no problem. A goal with a player advantage? No, thank you.
McKenna Brand balanced out her stats for the day with a hooking penalty at 15:58. One goal and one penalty. Not too shabby, considering the lone goal was also the game-winning goal for Boston. Brand's offensive presence over the past two games has been well documented, and Connecticut better take notes on how to stop her. If it's at all possible (it's not). The most impressive performance however came from goaltender Katie Burt, recording a 27-save shutout to help Boston reach their second win.
As the final whistle sounded, Boston took home their second victory over the Minnesota Whitecaps and first shutout of the year to be the first PHF team to reach a 2-0 record.
Hitting The Road
The Boston Pride will have a few days to rest up for their upcoming road trip as they get set to face the Connecticut Whale on the road this coming weekend. The matchups will take place Saturday, November 13 at 2:00pmEST and Sunday, November 14 at 3:00 pm EST live from the Danbury Ice Arena in Danbury, CT.
Kayla Friesen will be returning to Whale country as her first season in the PHF/NWHL was with Connecticut last year. Even though it was a "bubble" season, it still counts as a return. However, she's bringing her red line teammates with her to keep their momentum rolling in search of their third win.
Boston's first line with McKenna Brand, Jillian Dempsey, and Sammy Davis are an offensive juggernaut that was put on full display this past weekend. SPOILER: They will establish themselves in Connecticut and make sure to keep applying the pressure. That is, of course, if Kaleigh Fratkin can stay out of the penalty box. Nothing personal, even-strength goals are just more helpful.
PHF action returns on Saturday, November 13, and Sunday, November 14, when the Boston Pride visit the Connecticut Whale for a weekend series. Both afternoon games begin at 2:00 pm ET and will stream live on ESPN+ in the United States. Viewers in international markets can watch Saturday's game on Twitch, with Sunday's game on ESPN International affiliates, including TSN Direct in Canada.