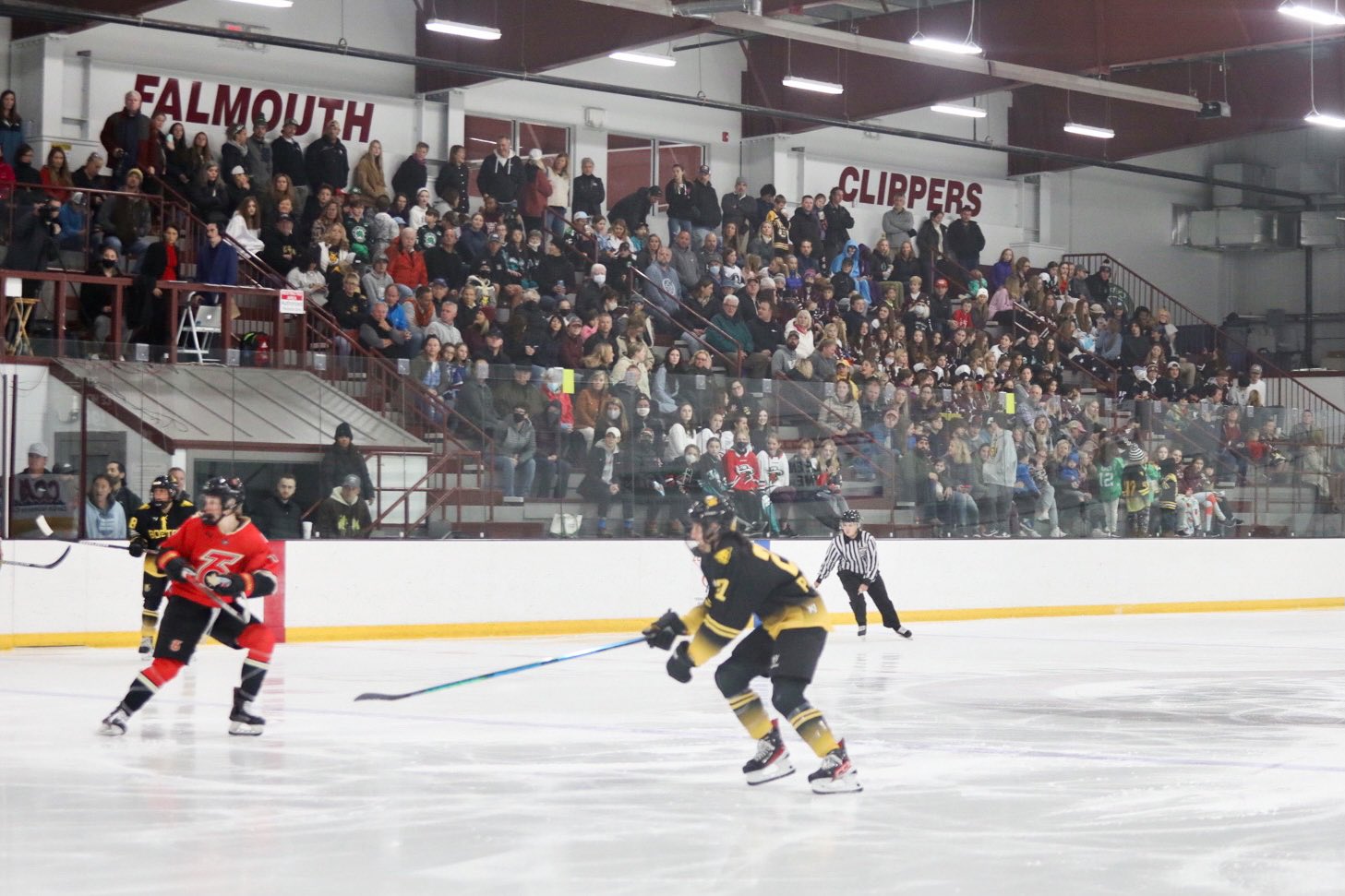 By: Jake Solomons | Follow Me on Twitter! @jake_solomons
Hockey is a sport you can't fully experience unless you are in-person watching it. You can watch on TV, but the energy and ambiance of a live crowd are exponentially more exciting and inclusive. That feeling was no different on Saturday night as the Boston Pride defeated the Toronto Six 2-1 in the final exhibition game of the preseason. For the past two seasons, there had been something missing from the games. Last year's "bubble" season prohibited fans from attending games due to COVID – old news, I know. Part of the 2019-20 season was suspended for COVID, which let the tension build for nearly two years in the hope of seeing PHF games live again. Well, everyone got their wish as a capacity crowd filled the Falmouth Ice Arena Saturday evening.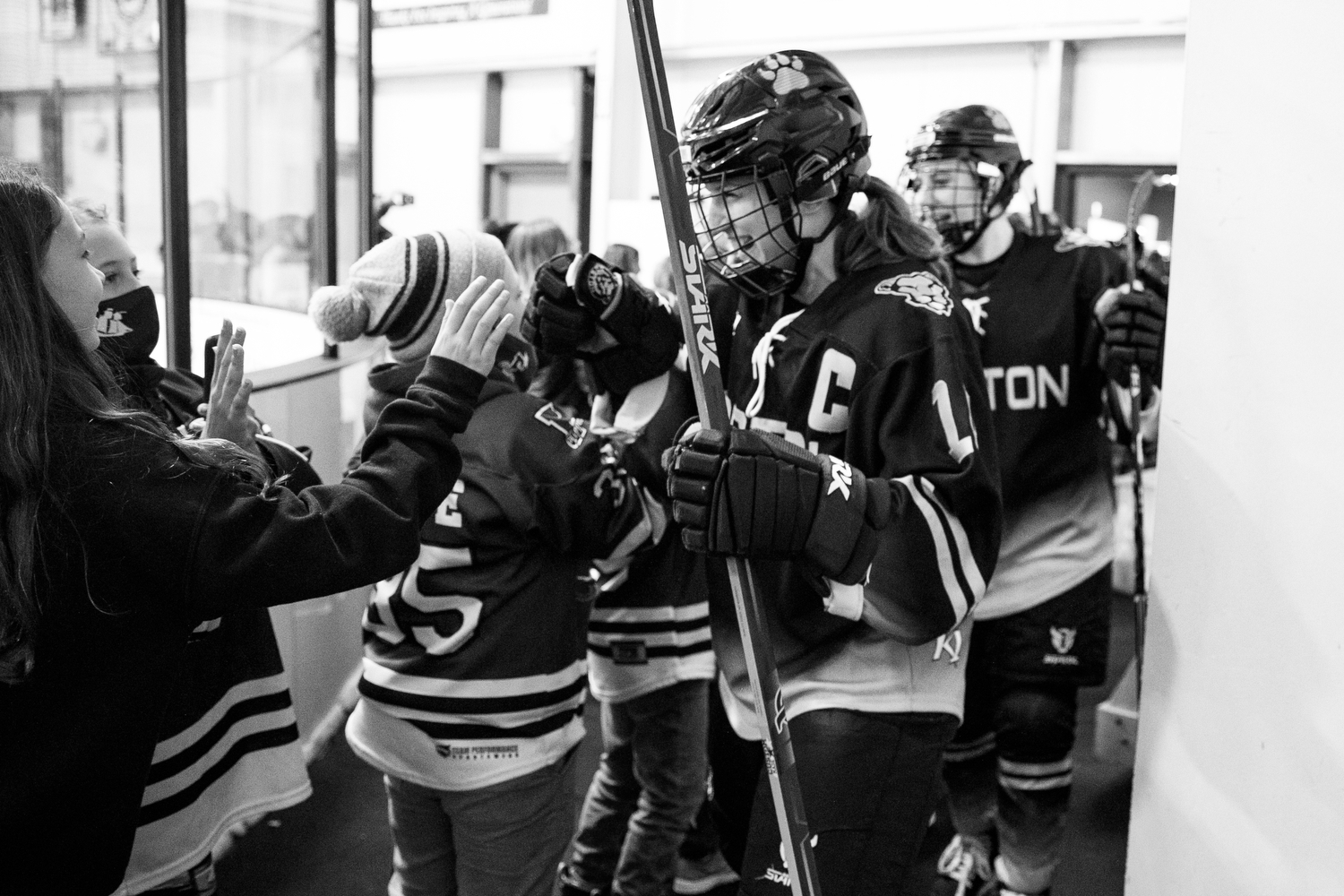 Seeing smiles on the faces of young girls admiring the teams warm-up and play was priceless. It reminded me of my sister when she watched Hilary Knight and other players in the Winter Olympic Games. That memory put a smile on MY face. It was a chain reaction, like when one person yawns and it just keeps going.
The players were greeted by an outpouring of excitement and support from the crowd; you could tell they were getting emotional. When you reunite with a friend you haven't seen in a while, you can't help but want to embrace them. Sure enough, both teams were elated to see their close friends and families in attendance after all this time. The energy from the crowd motivated Toronto and Boston to the point where you could swear it was the Isobel Cup Championship game.
First Period
If you were wondering, there is a massive difference between playing tune-up games against NCAA teams and PHF teams. The pace of play is faster, players hit harder, and intensity is amplified. The Pride wasted little time renting out the penalty box first with an interference call on Lauren Kelly at 2:27. Luckily, the Boston penalty kill unit is simply unstoppable (a surprise to no one) – shutting down Toronto's early advantage. The dump-and-chase relay races should replace speed skating in the Olympics; it's more exciting.
For the most part, the first period was a stalemate. Corner puck battles were vicious, everyone throwing their body around trying to gain leverage. In some cases, players took it too far and got called for slashing like Toronto defender Sarah Steele at 9:13. Boston's player advantage was unsuccessful on the powerplay. The Toronto Six forecheck was relentless, and captain Shiann Darkangelo stuck with Boston like super glue, preventing any scoring opportunities. Then McKenna Brand entered the chat.
Boston's first offensive line comprised of Jillian Dempsey, McKenna Brand, and Sammy Davis has been slowly developing as a cohesive unit in practice, and Saturday's game proved just that. A break out of the corner allowed Sammy Davis to control the puck and send a cross-ice pass to McKenna Brand, skating ahead on the far wing. Brand put on a clinic skating past defender Taylor Davison and rushed in to score, deking out netminder Elaine Chuli to put the Pride up 1-0.
A few scoring chances for Toronto just missed, but there is something to be said about their strategy. The offense for the Six is crashing the net quickly and often, but the puck couldn't cross the line. Either Lovisa Selander's pinball flipper-like pads were put to good use, or Toronto couldn't lift the puck. Maybe a mix of both.
End of First. Boston – 1, Toronto – 0.
Second Period
Toronto and Boston made some mutual agreement in the first intermission to make sure the second period was both fast-paced and slow-moving at the same time. It took both teams eight minutes or so to get any momentum going. Neutral zone passes were broken up by the overwhelming forecheck. A late offensive zone rush allowed Meghara McManus to catch the puck on her blade and flip it out front to Olivia Raselli on a rebound. Raselli one-timed a wrister past Chuli to record her first-career PHF goal, giving Boston a 2-0 lead.
Toronto retaliated with a quick breakaway for Annie Macdonald but was stopped by Selander with a flash of the left pad. If you're going to beat Lovisa Selander on a breakaway, you'll have to bring more than an off-balance backhand if you expect to score.
Penalties were being handed out like Halloween candy in the second period, with Amanda Boulier starting things off for a tripping call at 12:47 (seen below). Toronto's Shiann Darkangelo felt left out of the penalty box party, so she took a two-minute rest for slashing at 12:52. The 4-on-4 isn't ideal, considering it's still a penalty kill, but it is better than a 5-on-4 Toronto advantage Boston initially had. Both teams were unsuccessful on the powerplay. A few minutes later, the Pride rented out the sin bin again with Sammy Davis called for holding at 19:45. With 15 seconds to go in the second, the Toronto Six would head into the third period with 1:45 on the powerplay.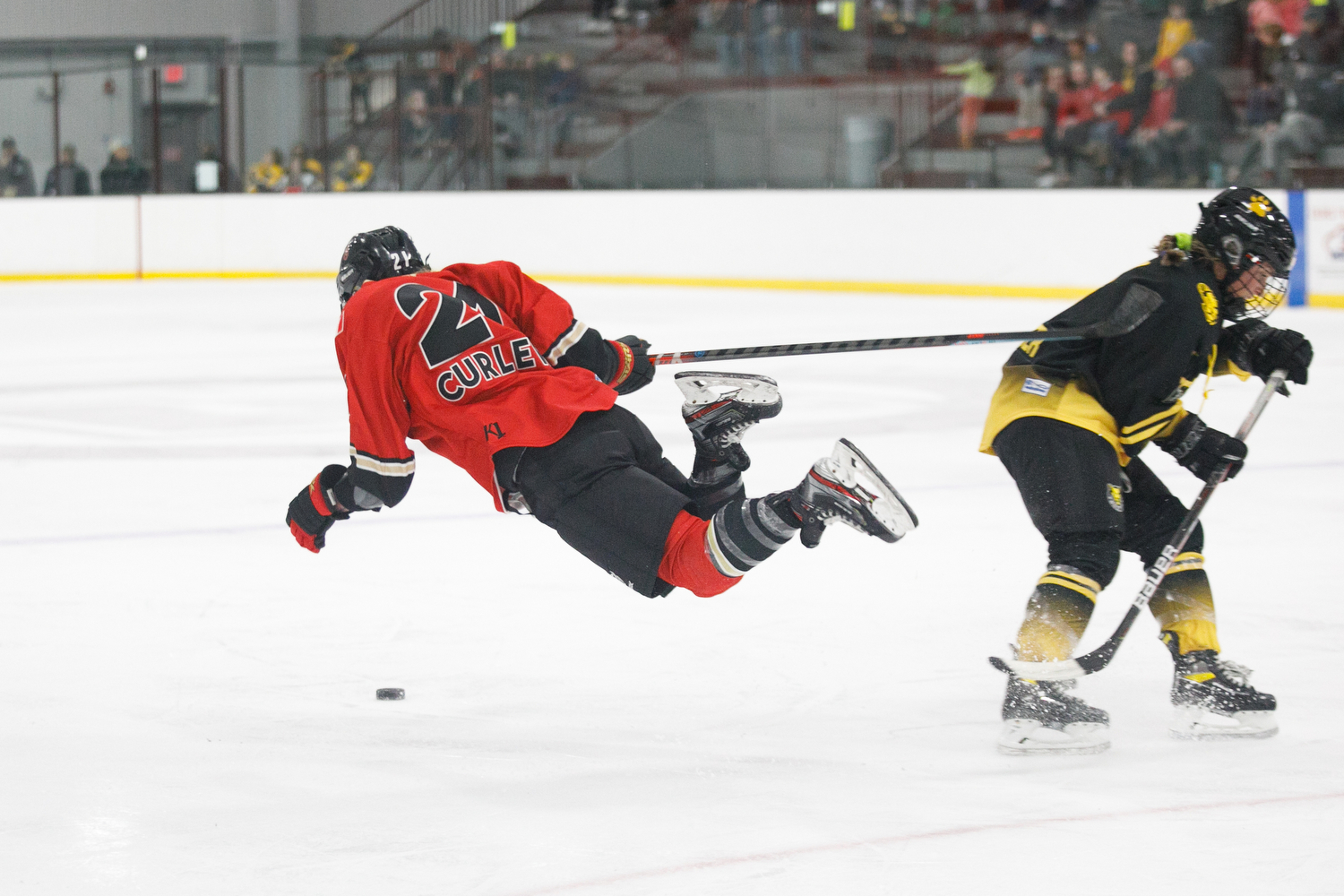 End of Second. Boston – 2, Toronto – 0.
Third Period
Toronto made some changes in the final frame, with Amanda Ridgewell replacing starting goaltender Elaine Chuli in the net. Goalies are usually faced with stopping the puck from going into the net, but not the players. At 3:49, Toronto Six forward Taylor Woods body checked Kaleigh Fratkin into Ridgewell, crashing to the ice in a "hold your breath" moment. It took a second to make sure nobody was hurt. Thankfully, all parties were fine, except it earned Woods two minutes to think about what she had done. With Boston capitalizing on none of the powerplays, the Six managed to kill off the penalty.
A few minutes later, Sammy Davis checked back into the box for tripping at 12:31 for her second penalty of the game. The 5-on-4 advantage was all well and good, but Boston knew they could make things more interesting. Lauren Kelly joined Sammy Davis in the bin for a body checking minor at 13:47, which allowed a 5-on-3 advantage for Toronto. The penalty kill saw defenders Fratkin-Souliotis-Dempsey protect the zone successfully.
Traffic in the crease allowed a late scoring opportunity for Emma Woods, giving Toronto their first goal of the evening at 17:08. The goal by the Six gave a little hope of cutting the deficit to one. A timeout by Toronto and Boston preserved energy for the final stretch of the third. The Six pulled goalie Amanda Ridgewell at 18:40 to add an extra attacker. Even with the pressure put on by Toronto, their player advantage was unsuccessful in tying the game.
The final score at the end of Regulation: Boston – 2, Toronto – 1.
Three Stars of The Game
McKenna Brand (1 goal)
Olivia Raselli (1st career PHF goal)
Emma Woods (1 goal)
Don't Bet Against Boston
A victory for Boston is paramount to their confidence level going into Saturday's season opener vs. Minnesota Whitecaps. All three lines produced at a level that will pose a threat to all other PHF teams this season, including the Whitecaps this weekend. Passing in the neutral zone is where things can improve, but Boston's passing overall has been crisp and accurate.
The Red Line arsenal in the Putigna-Wenczkowski-Friesen trio was eerily quiet in Saturday's exhibition vs. Toronto. We could estimate that although it was actual PHF-level competition, the Red Line will show up in full force vs. Minnesota. Speed was a factor that McKenna Brand made sure people noticed with her highlight-reel goal. Minnesota forward Allie Thunstrom will undoubtedly have something to say in response to Boston's quickness. I present to you Exhibit A:
Thunstrom competed in the 2014 USA Olympic Trials for Speed Skating, unfortunately not making the team. But that is nothing to scoff at. Not many people get the opportunity to try out at all. However, she will be in Boston this weekend, and Thunstrom is packing her speed and agility in her carry-on.
With that in mind, the Pride will certainly have an intensified practice schedule this week as training camp comes to a close. A few more hours on-ice is all they will have to prepare for their season-long title defense. All things considered, between their practice performance and exhibition results thus far, it would be foolish to bet against Boston this season.
The regular season kicks off on November 6, 2021, as the Boston Pride host the Minnesota Whitecaps in their home opener at Warrior Ice Arena in Brighton, MA. The puck drop is scheduled for 7:00 pm ET. Streaming is available on ESPN+.