By: Jake Solomons | Follow me on Twitter @jake_solomons
The Boston Pride created some buzz on Thursday with the signing of Olympic gold-medalist Kali Flanagan. Growing up in nearby Burlington and an alumnus of Boston College, Flanagan will return home to help the Pride continue their quest for their third Isobel Cup title. The Boston Pride drafted Kali Flanagan 5th overall in 2018, the same draft class in which teammates Lovisa Selander and Jenna Rheault were also selected by Boston. Playing with your hometown team provides comfort for some, but having played and dominated on a global stage like the Olympics, Flanagan will surely be ready to turn the comfort zone to an impact zone for Boston's opponents going forward.
"I chose the Pride for two reasons," said Flanagan. "The quality of the people that are a part of this organization – from the front office, to the coaches and my teammates – and Boston is my home; I grew up here, I played in college here at BC (go Eagles!) and now I have the opportunity to play professional hockey here, and I'm looking forward to bringing the same wholehearted effort, comradery and championship mindset that I've always played with to the Pride."

Kali Flanagan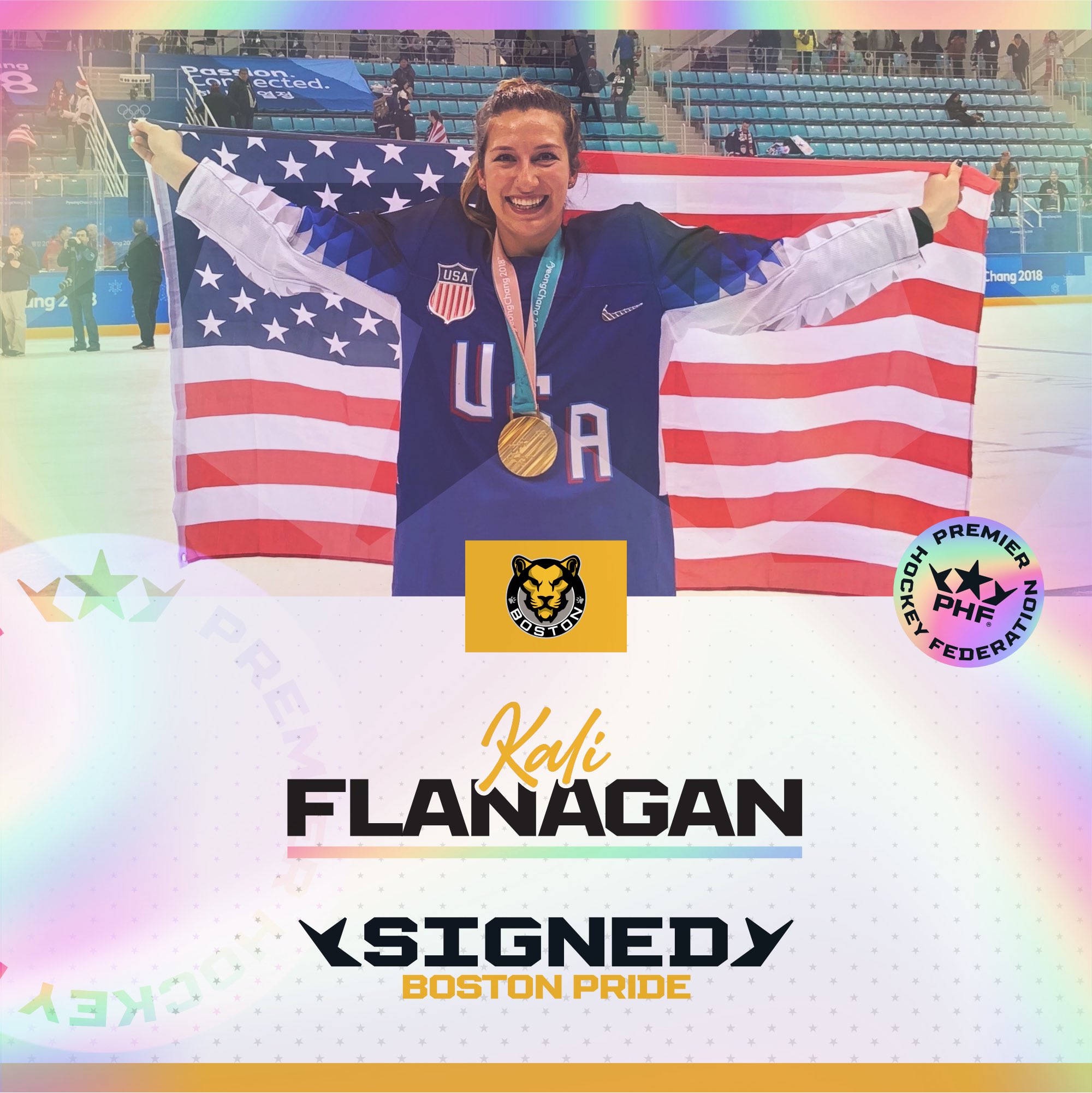 Head Coach Paul Mara has a very forward-thinking mindset when it comes to the game plan for Boston. With Flanagan's signing news, it now adds an eighth defender to the Pride roster. That's right, eight defenders. I'm not sure how forward he's actually thinking, but we'll trust the process for now. Some questions stem from the PHF's 17-skater per-game rule: who will dress each game, and how different will the Defensive-pairs look for the remainder of the season? Coach Mara addressed the surplus of Defensemen in Thursday evening's Q&A session before practice.
"We have the luxury of eight great defenders on this team. When you have the chance to add a player of Kali's caliber, you jump at that chance. It's one of the luxuries that we have here in Boston, and how that plays out – I'm not quite sure, we haven't even stepped on the ice yet – but I know she'll play a key role in every aspect on the ice. She can play defensive zone, offensive zone, powerplay, penalty kill – so it's one of those things where we'll figure it out, once we get on the ice [tonight] and these games this weekend, which are extremely important against Toronto, but the most important thing is just getting started."

Paul Mara, Head Coach
An interesting point that has been somewhat overlooked, not on purpose, but Kali Flanagan has spent the past two seasons with the PWHPA. The PWHPA is a player's association comprised of some of the world's most elite hockey players and is sometimes pinned as "the other league" and looked upon by PHF fans as a rival in terms of core values. Many players in the PWHPA have been a part of the PHF, then NWHL, such as Hilary Knight, Brianna Decker, and of course Kali Flanagan. Flanagan was asked about her decision to join the PHF after her time in the PWHPA, what was implemented differently in recent years as opposed to when she made the jump to the PWHPA.
I think a lot of people view it as two separate sides, the PHF and PWHPA, and I think there's a joint mission when you read between the lines, the PWHPA and PHF are driving change in women's sports, women's ice hockey and they both just want to see the sport grow. Like I've been saying this whole time, I'm excited just to play some hockey – to be a part of the Pride, to be a part of a winning culture here and just play with a great group of girls."

Kali Flanagan
This Boston Pride team, who has already developed into an all-around powerhouse, will certainly accept an elite talent like Kali Flanagan with open arms. With a third of the season already played, the majority of the schedule is still ahead. Flanagan will wear number 6 for Boston and will make her Pride debut this weekend when the team hosts the undefeated Toronto Six in a rematch of the 2021 Isobel Cup semifinal. Game times are Saturday night, December 4, at 7:00 p.m. ET, and Sunday afternoon, December 5, at 1:00 p.m. ET at Warrior Ice Arena.