By: Jake Solomons | Follow me on Twitter! @jake_solomons
Boston Pride captain Jillian Dempsey and her All-Star team took home the victory on Saturday, January 29, at the PHF All-Star Showcase in Buffalo, NY. The three-team round robin was a fun concept, especially when the third-period "shootout round" features the best players in the league. Toronto Six netminder Elaine Chuli was awarded MVP of the All-Star Showcase after an unbelievable performance in net in the final game, allowing only one goal in the 5-1 victory in Game three. It's always fun to see bitter rivals go head-to-head, but when you put those rivals on the same team, you never know what you're going to get. A weird but effective dynamic is what you're going to get, quite honestly.
"We had fun and that's all that matters. It was tough coming out for that second game, but the girls put a bunch of pucks in the net so that was good. We just really rallied back and kept it positive and came out with the big win. It was a great weekend."

Elaine Chuli, Toronto Six
In Game One of the Showcase, Team Thunstrom defeated Team Darkangelo 3-2. Jonna Curtis of the Minnesota Whitecaps scored twice while her teammate and All-Star captain Allie Thunstrom picked up two assists plus the game-winner in the shootout. Buffalo Beauts' Kennedy Ganser and Toronto's Lindsay Eastwood both scored in the shootout for Darkangelo. Whale netminder Abbie Ives earned the win for Thunstrom.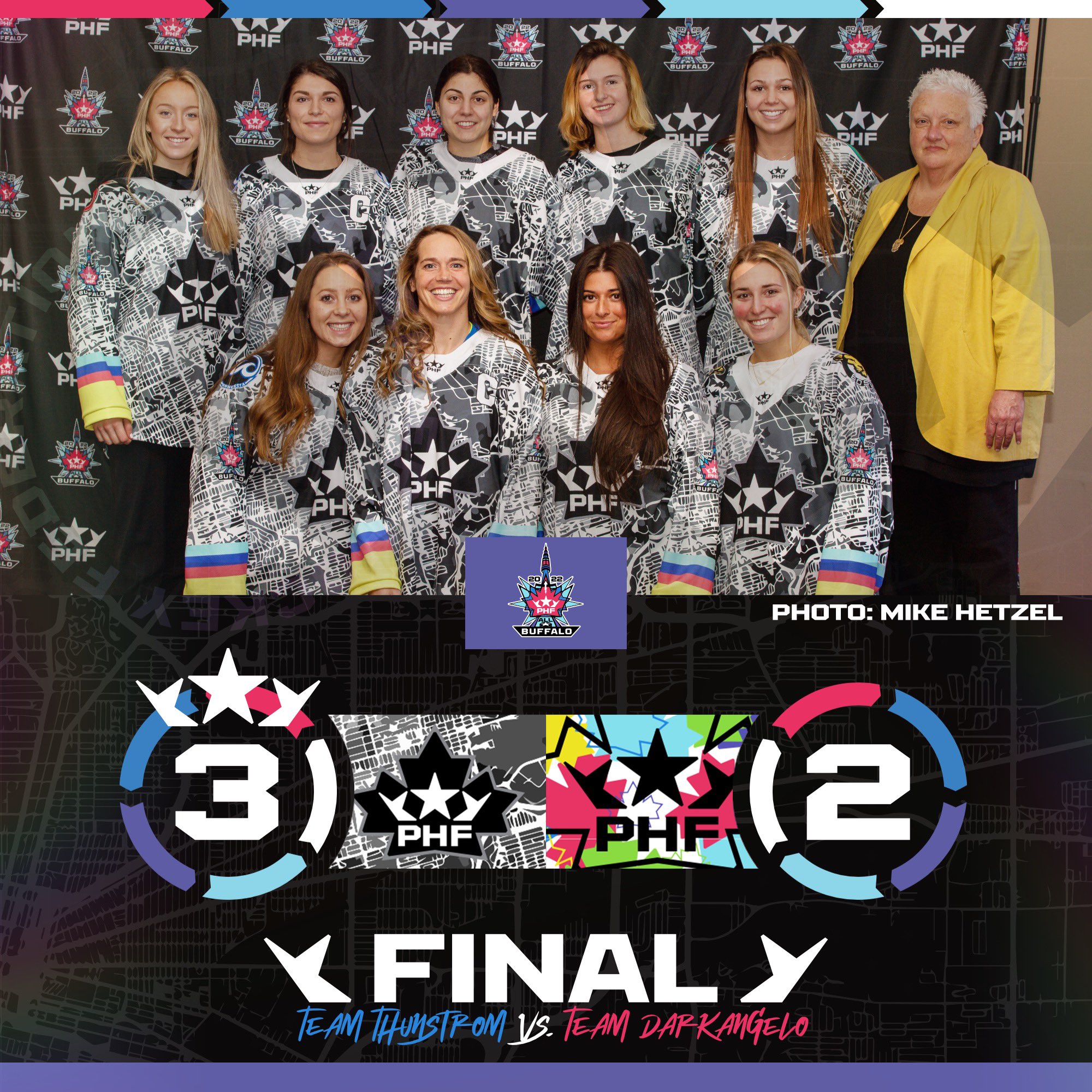 Dempsey's squad sat out during the first of three mini-games and suffered a 3-2 defeat at the hands of Team Darkangelo in the middle matchup. Boston Pride defender Kali Flanagan opened the scoring for Team Darkangelo, captained by Toronto's Shiann Darkangelo. Her Toronto Six teammate and PHF top-scorer Mikyla Grant-Mentis scored during the 5-on-5 round and again in 3-on-3 action to finish with a three-point performance on the day. Buffalo Beauts defender Dominique Kremer retaliated for Team Dempsey with a goal during 3-on-3. Buffalo may not be at the top of the league standings, but their record does not reflect the true talent they have on that team.
Goalies Can't Score…Or Can They?
The final goal of Game two was scored during the shootout by an unlikely source. Beauts forward Cassidy Vinkle was called for her attempt but elected to provide the opportunity to fellow fan-favorite Carly Jackson, who was serving as the event's backup goaltender. Jackson put on Vinkle's jersey and put her shot past Pride goaltender Katie Burt to cut Dempsey's deficit to 3-2.
Listen, the PHF was smart by not adding a "style points" section to the scoring system because Carly Jackson would have defeated every team just with the aviator sunglasses alone. I've seen goalie fights in hockey, I've seen them even score from the opposite crease on an empty net. But a goalie-on-goalie shootout moment, and scoring a goal? Only Carly Jackson could pull that off…and look good doing so.
The victory for Team Dempsey came together as a collective effort, with pieces from each PHF team really working as one…for now. It's nice to see everyone can get along once you put the same jersey on. Next week when the season resumes, probably not so much.
"We had a really strong lineup out there, and I think coming out in that second game, all the girls were really wanting to win that championship. After that first game in the dressing room, just telling the girls that this is the chance for them to shine and to really utilize each other. We knew we needed to be ahead by two goals at the end of the game. Just the excitement on the bench, the camaraderie, it was really special to be a part of. Forever Team Dempsey, forever champions!"

Sami-Jo Small, Team Dempsey Head Coach
MVP: Most Valuable Puck-stopper
The Toronto Six have had a pretty successful season thus far, with a 9-1-1 record and a +19 goal differential to show for it. Most notably, the All-Star netminder Elaine Chuli has recorded a 9-0 record this season with a 1.08 Goals Against Average. For the fans who aren't too familiar with hockey statistics, 1.08 GAA is outstanding. As MVP, Chuli earned a $500 cash prize from the PHF along with a $500 gift card from Warrior Hockey.
This past Saturday was no surprise as Chuli represented the Toronto Six in the Showcase, with a stellar performance as expected. Chuli allowed four goals and ended up with a 3.165 GAA between both games, but an All-Star Game is never usually a "fully-competitive" contest. We know this event is especially exciting because it comes down to just having fun. However, the competitive nature of these players would probably beg to differ.
"We had fun and that's all that matters. It was tough coming out for that second game, but the girls put a bunch of pucks in the net so that was good. We just really rallied back and kept it positive and came out with the big win. It was a great weekend."

Elaine Chuli, Goaltender, Toronto Six
Captain Jillian Dempsey shared many of the same sentiments in the post-game presser, giving credit to her netminder Chuli winning MVP – as well as the hard work of her teammates and winning mentality on the bench.
"That was an incredibly fun time. Obviously picked the right group of kids to get it done! Chuli played amazing and came up clutch for us in the end and nobody was more deserving for the MVP than she is. We were joking in between that this was our game and we had to get it done. It was enjoyable that we were able to pull it off. We were just having a great time out there and everybody did the job."

Jillian Dempsey, Team Captain, Boston Pride
Even in the midst of fun, there is an element of hard-nose, competitive spirit that Jillian Dempsey brings every single time she steps on the ice. That's why we love her here in Boston.
Back to Our Regularly Scheduled Programming
The PHF took a bit of a break to bring us the All-Star Showcase, but now it's back to the grind. The season will continue this coming weekend, February 5 and 6, 2022, where the Pride will host the Connecticut Whale live on ESPN+. The Pride were looking to shake off a 4-3 loss against the Metropolitan Riveters back on January 23 at home. The real key for Boston in this upcoming weekend series is to stay out of the penalty box and prevent any offensive advantages for the Whale, who have been slowly creeping to first place just behind the Toronto Six. A relentless offense will be a challenge for the Boston goaltenders, who will certainly get a lot of work in.
The Pride have a powerplay problem, plain and simple. Their success rate on the player advantage is 5%. You read that correctly, five. Not a particularly good number. Head coach Paul Mara definitely needs to evaluate the lines this week at practice because to beat a juggernaut like the Connecticut Whale; you need more production from the special teams. Hopefully, the writing on the locker room wall is highlighted and underlined so they can get the message that things need to change. Everyone is pulling their weight; it's just that minor lineup adjustment that could change the entire dynamic.
With bated breath and fingers crossed, we will definitely see if the problem is solved as the Boston Pride face the Connecticut Whale at Warrior Ice Arena on Saturday, February 5 at 7:03pm and Sunday, February 6 at 1:03pm. On Saturday evening, the Pride are also hosting Healthcare Student Night – an initiative started by Sammy Davis. Sunday afternoon, the Pride are hosting their annual "Denna Day" in honor of Boston Pride alumni Denna Laing. Both games will be broadcast on ESPN+, Twitch.tv, and TSN International in Canada.