(Photo Courtesy of Providence Bruins)
By: Jen Stasio Coombe  |  Follow Me On Twitter @hockeygirl2976
Only 8 more days until the regular season is here and the preseason squad has been trimmed down a few at a time, getting closer by the day to take its final form. Today's biggest whack came by placing Jordan Szwarz, Mark McNeill, Cody Goloubef, Colby Cave, and Anton Blidh on waivers. For these five players, the next 24 hours will be telling.  They can either be picked up by another team or they can clear waivers, which would mean the Bruins could assign them to another league. In this situation, the only league available to assign them to would be the AHL, as only players on ELCs (entry-level contracts) can be loaned to an ECHL team. Szwarz, Cave, and Blidh have all spent time in Providence previously.  While Goloubef and McNeill came to the Bruins organization this year from Calgary and Dallas, respectively.
(Photo Courtesy: Providence Bruins)
Jordan Szwarz, the 27-year-old RW/C, has been in Providence for two seasons, spending 12 games last season up with the big club but only showing them 3 assists in those 12 games. His numbers in Providence were much more promising, playing 65 games his first season posting numbers of 22-32-54 and 52 games last season walking away with 21-27-48 for numbers all while sporting an 'A' on his chest. Szwarz is a fan favorite at the Dunk and is a tough competitor whose presence would be missed should he be picked up by another NHL team.
(Photo Courtesy of Providence Bruins)
Colby Cave, the 23-year-old center, has graced Providence ice for three full seasons.  Playing nearly every game every season cave has worn an 'A' since his first full year here but has only spent 3 games up in Boston. He is consistently around 30 points per year but has never improved beyond that to show the extra drive and skill that Boston is looking for to move him up, especially in such a crowded field of players.
(Photo Courtesy: Providence Bruins)
Anton Blidh, the 23-year-old winger, joined Providence the same year as Cave, but direct from Sweden. He has spent more time in the NHL than Cave, with 20 games in the past two years. Considering he came directly from a European league, where play and the actual rink size is different, it sometimes takes a bit for these players to mature to NHL readiness, so waivers are not a huge surprise here. However, Anton has a very gritty style of play that may or may not fit well in the future NHL and only time will tell for sure.
(Photo Courtesy: HockeyDB.com)
Cody Goloubef is a 28-year-old right-handed D-man that has spent 8 seasons bouncing around the midwest and west with the AHL/NHL before joining us here in New England over the summer. Not known for his high scores or excessive penalties Cody appears to be one of those steady Eddy type players who is there primarily to fill the gaps when needed. Perhaps he could lend that veteran vibe that may be lacking now that Cross has gone.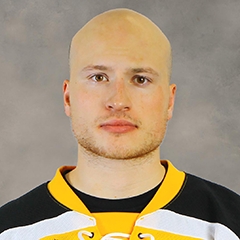 (Photo Courtesy: AHL.com)
Last for today's waivers was Mark McNeill, a 25-year-old RW/C with history in the WHL, AHL, and NHL over the past 9 years. Having not had much opportunity to observe McNeill play I cannot comment much on what he has to offer, but it does appear that his stats have actually taken a downturn over the past couple seasons, not the upturn we would like to see in a growth candidate.
There you have it.  Five men on waivers and 24 hours to think about it. Assuming they all clear waivers, the Bruins have the option of assigning them to their AHL affiliate in Providence. If any of them don't clear waivers, we will be waving them farewell by this time tomorrow.