(Photo Credits: Brad Watson/Getty Images)
By: Liz Rizzo  |  Follow Me On Twitter @pastagrl88
Pest. Chirpy. Dirty. Tenacious. Gritty. Charming. Loved. There's no way to describe Brad Marchand with a single word. A player that so many hate but secretly wish they had on their team. No such luck though. Marchie is ours and he loves Boston as much as Boston loves him. Who would have thought that a 5-foot-9 player would evolve into an NHL All-Star?
In The Beginning
(Photo Credits: Wikimedia.org)
"Brad was the hardest-working guy at practice from the first day he stepped on the ice in Providence. I remember one day we're out there after (practice) … he was trying to shoot off his off leg coming down the off wing, cause he played a lot of left wing back then, and he said, 'Joe Sakic used to shoot like this, I wanna be able to do this.'

And I'm kinda looking at him, he's a first-year guy, (and I'm thinking), 'You got a lot of other things you should take care of.' God bless him for his work ethic, and some of these young guys just knowing who Joe Sakic was. But that was Brad from day one." -Coach Bruce Cassidy
As a then-rookie forward with the Providence Bruins, Marchand knew early on that being an "agitator" would make him stand out.  Taking advice from his father Kevin, Marchand had to learn the game: fight for the puck and stand up for your teammates. Even if meant pestering your opponents.
"He always pushed me to be a very gritty player. But he always tried to keep me away from fighting. He wanted me to work on a more skilled part of the game."-Marchand on his father
Being a small player only pushed the young Halifax native. Never wanting to be "that guy who goes into the corner and loses 50 percent of the battles", Marchand became that "pest" to play against.
"Being an agitator gives me an opportunity to draw penalties against the other team. That's one part that brings emotion to my game."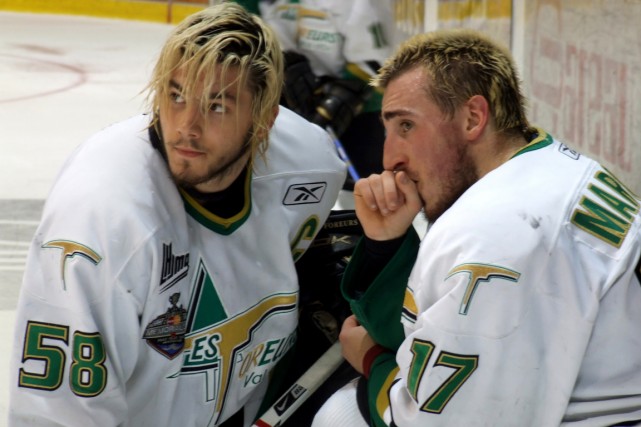 (Photo Credits: Andy Klink)
Early in his draft year, he scored 29 goals for the Moncton Wildcats (QMJHL) and was selected by the Boston Bruins in 2006. He continued to play and netted 33 goals the following season with Val d'Or Foreurs. A then 19-year-old Marchand would be traded from the Foreurs to the Halifax Mooseheads, who were competing for the President's Cup. Marchand, who led the team with 18 post-season points would later be scratched in Game 4 of the semi-finals. The Mooseheads lost all four games and the benching would cost Marchand: rather than end his junior season skating with Providence, he was asked by the Bruins to stay home until training camp. A tough start to a pro career.
"From rumors, or what I was told from the Bruins, it was my attitude, but that was never addressed to me by [Halifax]…I think they thought I was bigger than I was and that I thought the rules didn't apply, even though I didn't break any rules or anything. I don't know where the attitude thing [came from]. I did my work. I've always been a guy that worked hard. I never got in any arguments with the coaching staff, and no one ever approached me about anything. The fact that I was sat out without being talked to about anything at all, any situation, any attitude problems, anything, and then for it to come up after the season, I was definitely blindsided by it."
Marchand stayed competitive and continued to make a name for himself down in Providence. He was named the AHL's rookie of the month in January 2009. During the 2008-2009 season, he had 18 goals with 41 assists in 79 games. The following season, he had 13 goals with 19 assists in 34 games played, prior to being called up by the Bruins.  Providence Coach Rob Murray stated this about Marchand:
"March is one those guys who is a tireless worker. He's very tenacious on the puck. For that reason, he's a pest to play against. There's times you are doing a drill, in order for the drill to continue, you have to give up on a play. He's there fighting for the puck in the corner, digging it out of peoples' skates."
[youtube https://www.youtube.com/watch?v=TSW5SMiQeco&w=560&h=315]
The Big Leagues
In his first full year in the 2010-2011 NHL season, he scored 21 goals (five of them were short-handed).  In 2011, he was awarded the Bruins 7th Player Award, as voted by fans for the player who exceeded expectations. However, Marchand would cement his place on the team when he scored two goals in the deciding game of the Stanley Cup finals against Vancouver. He would net 11 goals, tied with Jeremy Roenick for the second-most by a rookie. As the seasons continued on, Marchand's skill and personality took real shape, locally and internationally. He would represent Canada four times in a variety of World Championships and in the 2016 World Cup of Hockey final he scored the winning goal, propelling team Canada to win the gold.
(Photo Credits: Chris Tanouye/Getty Images)
For as great as Marchand is on the ice, there is one nagging thing about his style. He's known as a "dirty player" who doles out cheap shots, particularly the slew foot on Derick Brassard in 2015. And yes, there's always the hope that he will change his ways.  But you gotta give it to Marchand: he makes no bones about how arrogant he could be, especially when he was younger. And of course, there's the infamous partying after winning the Cup in 2011 and the aftermath. Typically players are all made available for media during Breakup Day. Not #63 though. Marchand would end up missing it, along with the taping of an interview for the Stanley Cup DVD.
[youtube https://www.youtube.com/watch?v=hqIiy94Wj58&w=560&h=315]
No matter how hard he drank or partied, hockey always came first. If you look back after the Stanley Cup win, many were worried about the kind of shape he would be in when training camp started. But as line-mate Patrice Bergeron points out, Marchand is always there for the team.
"Yes, he [partied], but we won the Stanley Cup. Someone had to do it.  A lot of talk was about that, but he went home and he trained, and he got ready for the season and he was ready. He's one of those guys that will always put hockey first. He's always going to show up."
(Photo Credits: AP Photo/ Nick Wass)
Growing Up
Despite the continuing on-ice antics that overshadow his skill, there's no questioning his loyalty to his teammates. And yes, we're not glossing over the many suspensions he accumulated over the years, and he's paid for it (will Lick-Gate ever go away?). Opening night against the Stanley Cup Champion Washington Capitals, Marchand didn't take  kindly to Lars Eller's celebration in a 7-0 game, leaving Eller a bloodied mess.
As the season continues to unfold, there's something different about Marchand this year. He's improving steadily and becoming an exciting player to watch. Last season he ended with 85 points in 68 games played. Currently, he leads the team in assists with 10 and is second to Bergeron in total points (12). Could it be that being part of the BMP trio-line is pushing the left winger to be the best he's ever been? Seems that way.  It's hard to deny the chemistry between all three players on the first line. Both Bergeron and Marchand are destined to be together forever  and personally, I really don't want that line to be broken up (thankfully I'm not the coach).
(Photo Credits: Stuart Cahill)
It's interesting to read the comments about Marchand that come from outside fans. In doing some research, one thing I've noticed that's not discussed much is the man outside the rink. For all the feistiness he brings to the game, the amount of community work he does often goes under the radar. Whether it's support for Military families, first responders or the LGBTQ community, Marchie stands up for he believes in.
"[Players] are in a position where we can do certain things and use our name to help others. It's always good to give, and it's something we all enjoy doing. A lot of guys do things [anonymously] that other people don't know about because [getting attention is] not what it's about. It's about helping families, or people, or different organizations and charities, and that's what you're doing it for. You're not doing it for the credit."
In 2015, he attended the services of a Rhode Island soldier who was killed in action in Afghanistan. He has also done work with NoticeAbility, an organization which helps students with Dyslexia. The Nova-Scotia native also sent a single mom and her four sons on an all-expense paid trip to the 2016 NHL All-Star Game, after winning tickets at a charity auction. He paid for their airfare and accommodations.
What's Next
It would be nice to say that Marchand won't get another suspension or do something crazy on the ice that will make non-Bruins fans upset. It's an uphill battle to change a "bad" reputation, but what you do see is a player who isn't out for himself. He has taken on the role of a play-maker with a pass-first mentality that was evident in a recent game against Detroit. In that game, he was instrumental in the David Pastrnak hat-trick by setting up a pass on a 2-on-1. The assists keep racking up and so too will the goals. So let the haters boo, let them yell and be angry.  Good or bad, no matter what you think of Brad Marchand, you gotta admit, he's a damn good hockey player.
[youtube https://www.youtube.com/watch?v=61ybmotth0I&w=560&h=315]
[youtube https://www.youtube.com/watch?v=tj2EdMlYWss&w=560&h=315]