( Photo Credit: CausewayCrowd.com )
By: Tyler Putt | Follow Me On Twitter @MrBeanTown
It's November 15th, 2018 and it is no more clear today than it was on October 3rd, 2018, exactly who your 2018/19 Bruins are. Coming off an impressive weekend sweep which saw the Bruins take care of Toronto and Vegas, at home, by a combined score of 9-2, plenty of fans are hopping back on the hype train. These are the same fans that unceremoniously hopped off this very same train 4 short days ago when Boston was handed an 8-5 drubbing by the Vancouver Canucks.
So, which team are they? Are they the team beating the Toronto Maple Leafs 5-1 or the team losing to Vancouver 8-5? My answer is; both. Let me explain why…
The Good: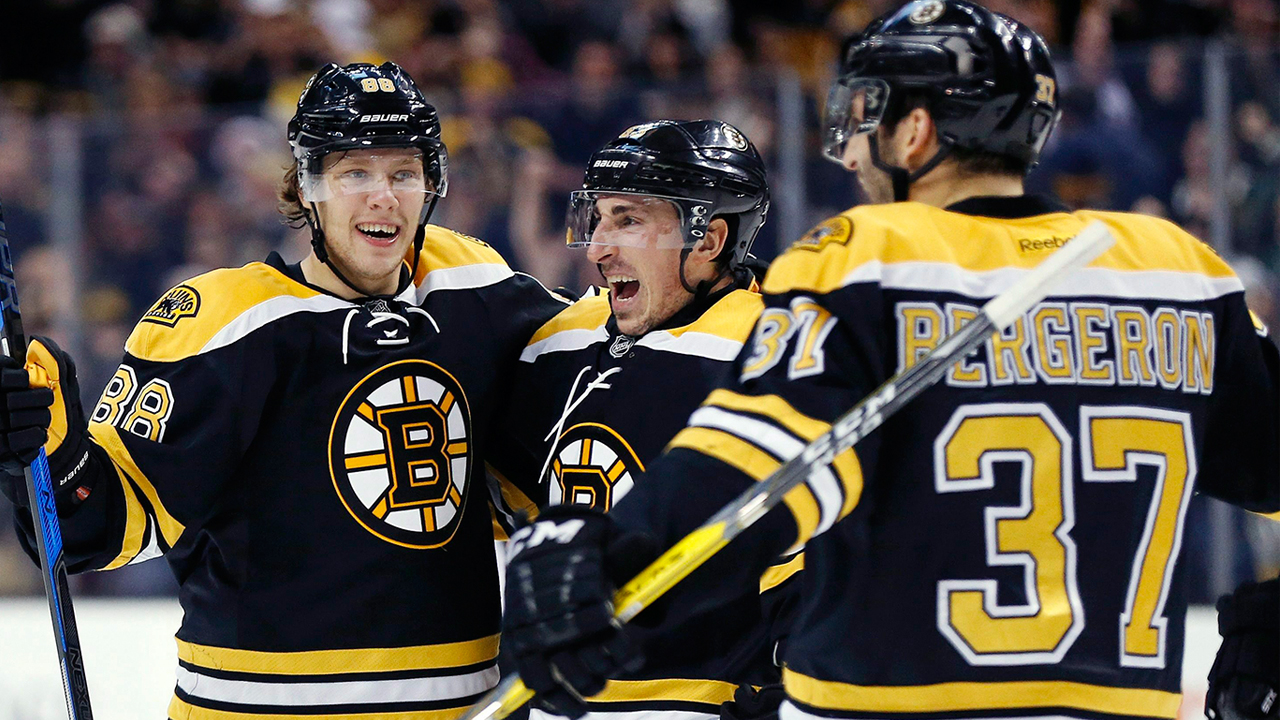 (Photo Credit: Sportsnet)
Let's start with the REAL GOOD. Bergeron, Pastrnak, Marchand. I could leave by only saying those 3 names and wouldn't even need to explain myself any further. This is the best line in hockey. Period. It's what Bruins fans have come to expect out of this trio, with a combined 68 points in only 17 games it's fair to say they are the biggest reason this team sits with a 10-5-2 record and sitting in 3rd place in the stacked Atlantic division.
Jaroslav Halak. I will be the first to admit I was only lukewarm about his signing when it was announced back on July 1st, and the Bruins ponied up $2.75 Million a year over 2 years for a stable backup to starter Tuukka Rask. Well, I was wrong. Halak is currently sitting second in the league in both GAA (1.77) and Save Percentage (.945) and was incremental in this weekend's successful homestand where he saved 77 out of 79 shots in a 27-hour time frame. Even with "starter" Tuukka Rask due to return to the team this week I think it is safe to say that Halak has earned the chance to be the number one netminder in Boston for now.
Brandon Carlo. We know he isn't on this list for his goal-scoring prowess as the last time he put the puck in the back of the net was back against the New Jersey Devils on March 4th, 2017! Yes, that is a current streak of 111 games, which is coincidentally also the longest streak in the NHL for consecutive games played without a goal, but I digress. What Carlo has lost in goals, he has more than made up in progression. Carlo is logging over 21 minutes per game, which includes over 3 minutes per game shorthanded, which is second only to Captain Zdeno Chara. Carlo has gotten more confidence in his game, his snarl in front of the net is back, and he seems to be understanding the game better this year. Hopefully, these are signs to come for Carlo as the season progresses and hopefully, he can stay healthy for the duration.
The Bad:
(Photo Credit: Nancy Lane/Boston Herald)
Tuukka Rask. I am one of the worlds biggest Rask apologists and one of his biggest fans. We know he currently has something going on outside the hockey world that he is dealing with and, of course, wish him the best; but, it doesn't change the fact that he has not been at his best this year.  After 8 games Rask sits at 4-4 with a 3.05 GAA and a .901 Save Percentage which is a far cry from his career numbers of 2.27 GAA and a .922 Save Percentage. Ultimately, the concerning part of Rask's play is that he doesn't seem to be battling or seeing the puck and, in turn, not giving his team a chance to win on a nightly basis. We all hope that his time away from the team is nothing too serious and he comes back healthy and in the right state of mind.
David Backes. Oh, David! The 6 million dollar man (until 2021) is just plain-ole-strugglin'. After 12 games this year, Backes has a total of (checks notes…) zero points. Yes, you read that correctly, ZERO points. Playing over 13 minutes per game, he just hasn't been able to contribute on the scoreboard and has subsequently been moved to the 4th line by coach Bruce Cassidy where he seemed to, at this time, be a better fit. 4th line duties are hopefully a short-term solution for Backes to find his game, as 6 million per year on the 4th line is a hard pill to swallow over the next few years.
The Ugly:
(Photo Credit: Winslow Townson/USA Today Sports)
Secondary Scoring. Hello? Are you out there? Anyone? Bueller? Outside of Bergeron, Marchand, Pastrnak, and Krejci the 5th leading scorer on the Bruins, with an earth-shattering 8 points, is defenseman Matt Grzelcyk. Yes, our 5th highest point total after 17 games is 8 points, eight, ocho, huit, VIII… you get the point. No matter the language it all says "not good enough". Although this weekends games showed an uptick in secondary scoring as we seen contributions on the score sheet from the likes of Bjork, Heinen, Kuraly & Nordstrom it isn't nearly enough to help keep some pressure off the top line. Hopefully the play we witnessed from L3 of Heinen – JFK – Bjork is something that can be sustained and built off as the season progresses to ease the pressure on the top line and help the young guns keep building on the confidence that is starting to shine through.
Injuries. The Boston Bruins with injuries? What!! Just another season where the Bruins have to buckle down and show their resiliency to cope with injuries of key contributors. After 17 games this year the Bruins have already lost, for periods of time, Kevan Miller, Charlie McAvoy, Urho Vaakanianen, Torey Krug, Brandon Carlo, Tuukka Rask, Matt Grzelyck & David Backes. Noticeably these injuries are hurting the back end a lot more than the forwards, and it's a telling feature when you have to roll out a 3rd defensive pairing of  Jeremy Lauzon and Steven Kampfer. Not a look that Coach Cassidy must like seeing for prolonged periods of time that is for certain. In total, we are already sitting at 49 man games lost due to injury, and we are only 17 games in. I guess, at least, the only way to look is up!
After the season-opening trouncing at the hands of the defending Stanley Cup Champion, Washington Capitals, I told you this team would be 10-5-2 after 17 games with a differential of +12 most of you, if not all, would have taken that and ran. The thing is this is still a team with a lot of improvements to make, a lot of warts to heal and a lot of injuries to overcome, but, it is a team with the tremendous potential to make a serious push this year. As we go through the season, remember, a roller coaster ride has both highs and lows, twists and turns, and the occasional bout of nausea but all you can do is sit back and enjoy the ride!
Check out the available tickets from our advertising partner SeatGaint for your next Boston Bruins game. Click the link below, and when purchasing any event ticket, from the NHL, NBA, MLB, NFL to concerts and shows, please use discount code BNGP to save a little money. Thank You!