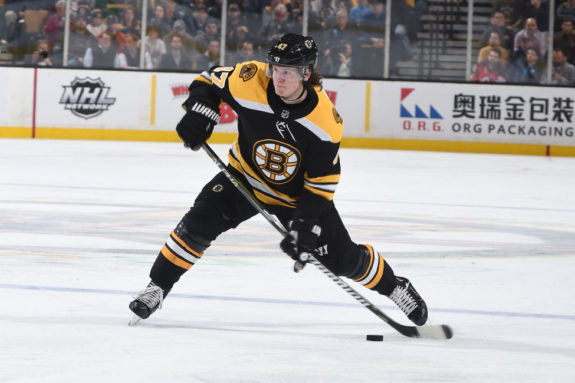 By: Lucas Pearson | Follow Me On Twitter @LucasPearson_
The Bruins are going to have a biiiiig decision this offseason when dealing with upcoming UFA Torey Krug. Now that there's a flat cap for the next couple years, Don Sweeney and co will have their work cut out for them. Personally, I think the Bs need to resign Krug, his departure would leave a big hole at the left side and on the powerplay. But what if, for whatever reason, Torey Krug and the Bruins don't find common ground and he walks? I'll go through a couple options that the Bruins can do. 
Cap Projections
The Bruins are projected to have a tad under $18 million in cap space. They have options on what kind of contracts to give to guys like Jake Debrusk and Matt Grzelcyk; they may choose to save cap now and sign their younger players to bridge-like deals or choose to give out longer deals. With a Krug contract likely taking up around $6.5-7 million in cap per season, the Bruins would have around $11 million to work with to sign Zdeno Chara, Matt Grzelcyk, Anders Bjork, Jake Debrusk and Joakim Nordstrom (who is likely gone). It will be a hard task regardless of what Sweeney decides to do.
Option 1: Fix the problem internally
If Krug says goodbye to Boston, there will certainly be a missing presence at defense. But one thing's for sure, the Bruins have a plethora of guys in Providence and Boston ready to fill the void. One player that would have a far bigger role with Krug's departure would be Matt Grzelcyk. He would likely take over powerplay duties and with the success he's had when featured on the 1st PP unit, I don't think the Bruins will be too upset.
Chara will likely be around again next year, leaving one more spot on the left side. The contenders for that spot would be: Jakub Zboril, Urho Vaakanainen, John Moore and Jeremy Lauzon, with the latter two able to play the right side as well. Zboril is an interesting case. In most other organizations, he'd likely be an everyday NHLer right now, but with the Bruins depth at the back end, he's spent most of his professional career in Providence. He's eligible to be claimed on waivers starting next year, so it's a sink or swim situation for the Czechman.
Urho Vaakanainen is still just 21-years-old and has loads of potential. He'd certainly be up to the task of becoming an everyday dman but if it doesn't seem like he's ready, the Bs can still send him to Providence to eat a ton of icetime up. Jeremy Lauzon has been really good since getting called up to Boston. The big, physical defenseman has played both sides and has been a solid presence to have on the bottom pair. I can't see him not retaining some sort of role on the blue line next year. And finally John Moore, who has always been a good bottom pairing guy for the Bs. With the low cap, Moore's days in Boston may be numbered, but if he stays a Bruin, he'll be a solid, mobile dman for them.
If the Bruins decide to go in house with their team next year, that would allow them to sign guys like Jake Debrusk and Matt Grzelyck to longer term deals rather than bridge deals. Instead of giving them contracts around 2×4.5 and 2×2.5 respectively, they could look to go for deals around 6×6 and 5×4 to set up the team in a better long term position.
Option 2: Fix the defense internally, use the money to acquire another forward.
Instead of the money being allocated to longer deals for Gryz and Debrusk, the Bruins could use the hypothetical $7 million from Krug and go out and sign a big time forward. There's a solid crop of UFAs to hit the open market that would look great wearing the spoked-B. I'm not too sure the Bruins have the real estate to pull off a big signing like Taylor Hall, but there are plenty of B+ players the Bruins could go after.
There are a couple of forwards (who can play both wings) coming out of Florida who would fit very well to the side of David Krejci. Those two names being Mike Hoffman and Evgenii Dadonov. Hoffman has spent his entire career in the Atlantic division and hasn't scored under 22 goals and 56 points since the 2014-15 season (where he had 27 goals and 48 points). He's a creative player a lot of skill and a great release. With a playmaker like Krejci and speedy winger like Jake Debrusk, it would be hard to think of him not putting up 30 goals and 60 points.
Dadonov is another skilled winger and is coming off of a big 70 point season. He's been a great possession player since returning to the NHL, averaging a 52.5 Corsi% in three seasons. Something that may get overlooked are the players Dadonov had success with in Florida. He's used to a center that likes to slow the game down (Alexsander Barkov) and playing with a similar player in Krejci could prove to be beneficial for both players.
And then there's a player who's been linked to Boston for years, Tyler Toffoli. He's always been a player who can play anywhere in the top nine, and always performs in the playoffs. After watching him succeed in Vancouver this year, there's clearly not an issue of fitting a new system. I'd think Toffoli would be a bit cheaper than the previous two options, and money is everything these days.
Guys like Mikael Granlund, Erik Haula, Alex Galchenyuk and Derick Brassard are some others the Bruins could choose to buy low on. Granlund had many great seasons in Minnesota but hasn't looked the same in Nashville. Haula erupted in Vegas but hasn't been quite as good after his gruesome injury last year. Galchenyuk has all the talent in the world and I would be really interested how he'd fare in a system like the Bruins, with leaders like Zdeno Chara and Patrice Bergeron. Brassard could slot in a lot of places and with his playoff track record, could be really solid. To end this off, just take a look at this hypothetical disguuuusting lineup.
Marchand – Bergeron – Pastrnak
Debrusk – Krejci – Hoffman/Dadonov/Toffoli
Bjork – Coyle – Kase
Ritchie – Kuraly – Wagner
Option 3: Sign a replacement defenseman
The market for defensemen isn't flowing with crazy talent, but there are a lot of solid pieces in free agency. If the Bs can't sign Krug, they likely wouldn't be able to go after Tyson Barrie either. He'd probably have a cap hit a bit under Krug's, but with how good the Bruin's right side is, wouldn't make much sense regardless of his cap hit. But there are two targets that would likely come in at a decent cap number if they hit the open market.
Those two are a pair of Calgary Flames dmen by the names of Erik Gustafsson and T.J. Brodie. Gustafsson had an excellent 2018 campaign. He broke out with a 60 point season and actually had more even strength assists than Krug. After a down season this year, it would certainly be more of a gamble but I can't see his cap hit getting too high. A one-two year deal around $4 million could be a good, prove it contract for both sides.
T.J. Brodie has had a couple really solid years in a row. He's averaged over 30 points, a +20 rating and right around a 54.2% Corsi, despite not having a big role in the Flames powerplay. He's more reliable than Gustafsson and if Grzelcyk or McAvoy can take over powerplay duties from Krug, the Bs would still have a great defensive core.
Obviously trades can also happen. If the Bruins sign a forward, they could trade one of their middle-six guys, maybe for a defenseman, maybe for a draft pick, who knows. But at the end of the day, Krug or no Krug, the Bruins will still be a competitive team next year. I just hope he's a part of their success.
Check out the new Black N' Gold Hockey Podcast episode 185 that we recorded below on 7-12-20! You can find our show on many worldwide platforms such as Apple Podcasts, Google Podcasts, iHeart Radio, Spotify, SoundCloud, and Stitcher!
[soundcloud url="https://api.soundcloud.com/tracks/856853092″ params="color=#ff5500&auto_play=false&hide_related=false&show_comments=true&show_user=true&show_reposts=false&show_teaser=true&visual=true" width="100%" height="450″ iframe="true" /]
Subscribe to our new Black N' Gold Hockey YouTube channel! We'd really appreciate the continued support. Click HERE for exciting Black N' Gold online content!